Clarifying and Articulation: Synthesize Learnings
A WHOLE NEW PHASE
This article continues examining, in depth, the parts of the branding process that I introduced in my e-book, 17 Mistakes that Can Harm Your Brand. In the book, I outline five phases of the branding process: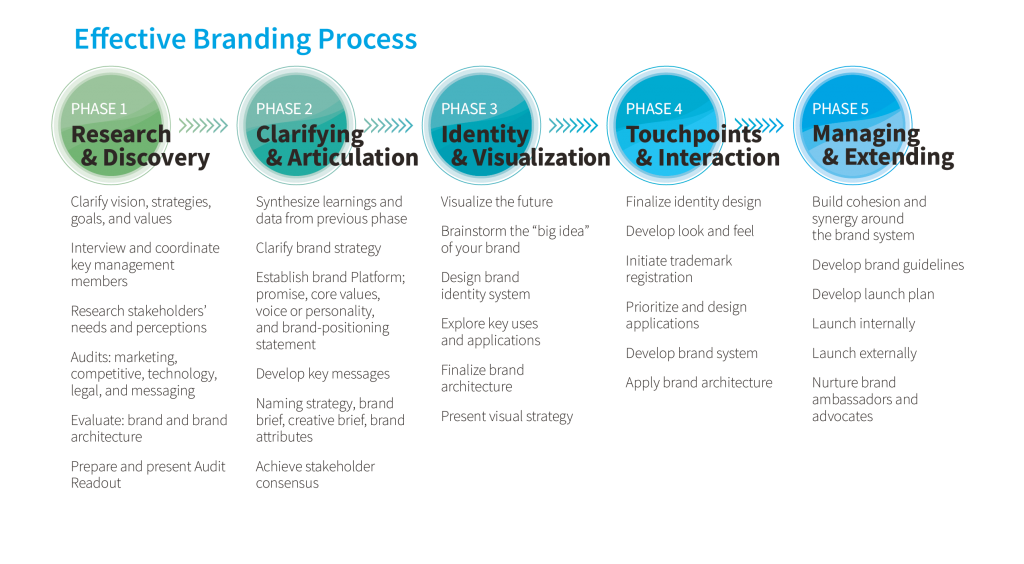 We've discussed the Research and Discovery phase of the branding process. Next, we move to the second phase—the Clarifying and Articulation phase. Much like the previous phase, the Clarifying and Articulation phase consists of multiple areas. All areas of Phase 2 are affected by everything you learned with your research in Phase 1. What you want to do is look at and realize that now you're going to start and solidify your idea and positioning. This first part of Clarifying and Articulation is synthesizing your learnings and data from the previous phase.
Synthesize… Say What?
Hearing the term synthesizecan cause a bit of apprehension for most people; it's not a commonly used term. It's not a term that should cause you to reach for your nearest dictionary. You already are doing it—right now, in fact. Basically, if you are reading this you are synthesizing. Synthesizing refers to putting things together. It's the if this, then thatmethodology. As humans, we synthesize every day. We make various connections in our lives, a trigger happens, then a result takes place. As I mentioned, you are synthesizing right now, as you read this: You see a word, a connection is made in your brain, and you know what the word means.
Expanding into Actionable Items
With the results of your research in hand at the end of Phase 1, you started the audit readout stage. To move forward past the audit readout stage and into Phase 2, you need to take the research that you have completed and making connections that begin to make your brand better. Realize that some of these connections may have been discovered or started during the audit readout as well. What you need to focus on now is taking those connections you found beforethe audit readout and any new connections found duringthe audit readout and expanding on them. You need to expand the connections you discovered into actionable items.
Let's use the following example: Your brand, at the beginning of the branding process, was focused on providing a new way to help your customers. You know from your research that you're correct in that there is a unique opportunity for your brand to have a presence. You found a connection, there is room for your brand, so your brand can move forward.
This is too general or broad of an actionable item, though. Your actionable items need to be things that you will see improve your brand, in concrete ways. Let's look back at your research, again imaging that during your research you found that the top three competitors all have horrible reviews when it comes to customer service. Your actionable item might be "How do we provide better customer service that our customers will honestly feel is a benefit?" From there you might break down your actionable item into sub-items. Each sub-item needs to work toward achieving the larger actionable item.
As you go through every part of your brand you might have action items for every part. If your action item begins to become a large unattainable list, allow yourself to realize that while all the items need to be addressed and completed, you do not need to do them all at once. Set priorities for the items; start with five action items. Accomplish them, then move on to the rest. If there are other people or departments that can handle action items, assign some to them. Remember that an effective brand utilizes every part of the business, not just one part. Your actionable items list might be short or long. The important thing is to create the appropriate list that correlates with what you discovered as you worked through Phase 1.
Discovering all of the items you can will move you directly into the next stage (clarifying your brand strategy) and other areas such brand position, brand promise, brand values, and more. We are excited to hear how your branding process is going. Share with us below so that we can help make your brand better.
Ideas To Make Your Brand Better Now:
Review what you learned from your audit readout meeting, looking for connections
Begin defining your actionable item list, with a minimum of five things you can start on this week
Share below what you feel will be your hardest actionable item so others can offer advice on how to achieve your item
TERMS click to expand or collapse
Synthesizing: Discovering connections and areas to which information, data, or research learnings relates.
Brand strategy: A company's long-term plan for the development of a brand into a success. Brand strategies include goals and affects all aspects of a business.
Brand Values: The heart and soul of a brand. Impacts every part of a brand from new hires to the CEO and owners.