Social Connection: Facebook
THE WORLD IS ON FACEBOOK
Unless you have been living under a rock for the last several years, you know that Facebook is the king of social media. With more than 2.2 billion active monthly users, it is potentially a great way for your brand to reach out and engage with your customers. When it comes to your brand and Facebook, you need to ensure that this touchpoint is one that will work well for your brand. To understand whether Facebook is a good fit or not it is helpful to know some of the basic demographics.
Facebook Demographics
The demographics associated with Facebook seem to change on a continual basis. When you have an average quarterly user increase over the last 10 years of 9.31% your demographics can change from year to year if not at least quarterly. Here are some quick statistics pertaining to Facebook's demographics:
Total Number of Users World-Wide
2.2
Billion
Active Monthly Users
1.47
Billion
Active DAily Users
% of US Adults who use Facebook
Number of Small Business Pages
40
Million
Active Small Business Pages
There is a vast amount of data pertaining to Facebook demographics and usage on the platform. These little snippets are to illustrate the "reach" possible for brands deciding to use Facebooks.
Determining the Best Page Type for Your Business
To begin setting up a business page you must have a personal Facebook account. Assuming that you already have a Facebook account, you can then go in and create your brand's Facebook page. Go to Facebook.com/business and click on the Create a Page button in the top right corner. Facebook will then ask if you want to create either a page for a "Business or Brand" or a page for a "Community or Public Figure." As you can guess, you're going to want to choose "Business or Brand."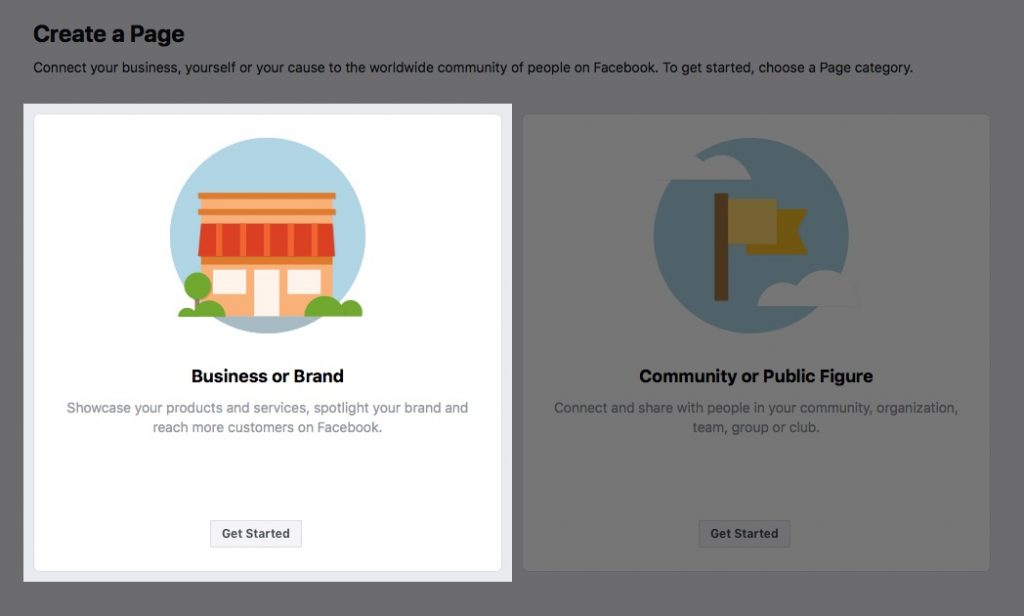 Fill out the Information pertaining to your brand, page name and the category in which your brand should be situated. Depending on the category you choose, you will have the option to enter more information such as address and phone number ,if you choose. Other category types might have additional information or possible restrictions determined by Facebook. After you finish entering your initial information you'll need to start editing your page. Facebook has three main items (referred to as Page Tips) that they recommend you fill out first.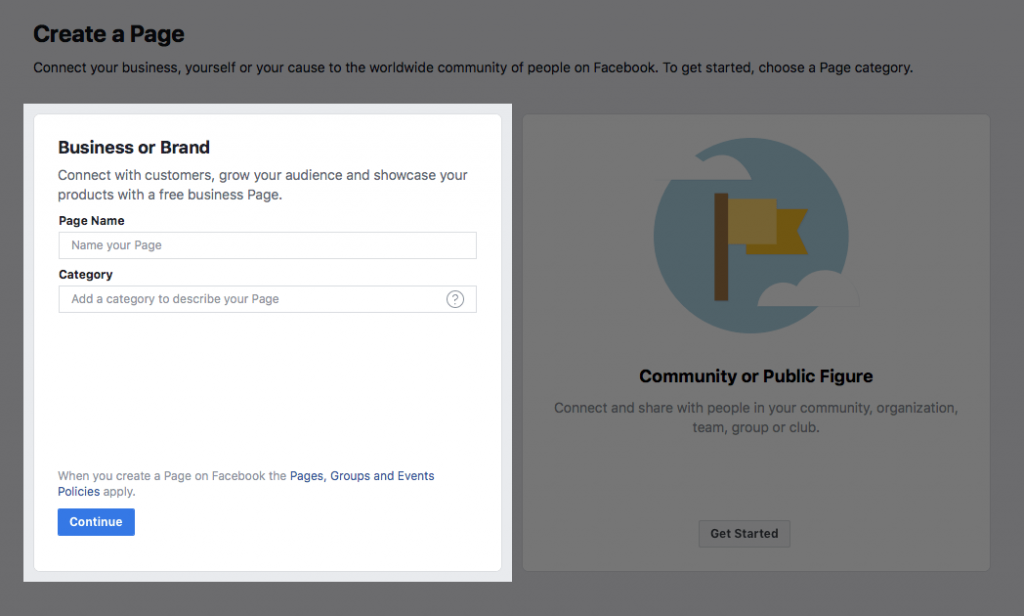 Add a Cover Photo
Before you even see your page, Facebook will ask you to upload the images you want to use for your profile and cover images. If you have any questions regarding Facebook image dimensions see our post Sizing Up Facebook. The first image it will ask you for is your profile photo. This is the image that accompanies any customer-facing action you perform on Facebook. Following your profile image, you'll need to add a cover photo. Your cover photo is the banner at the top of your page; people see this when they come to your page.
After your images have been uploaded and set, you'll see your page, which at this point will look pretty sparse.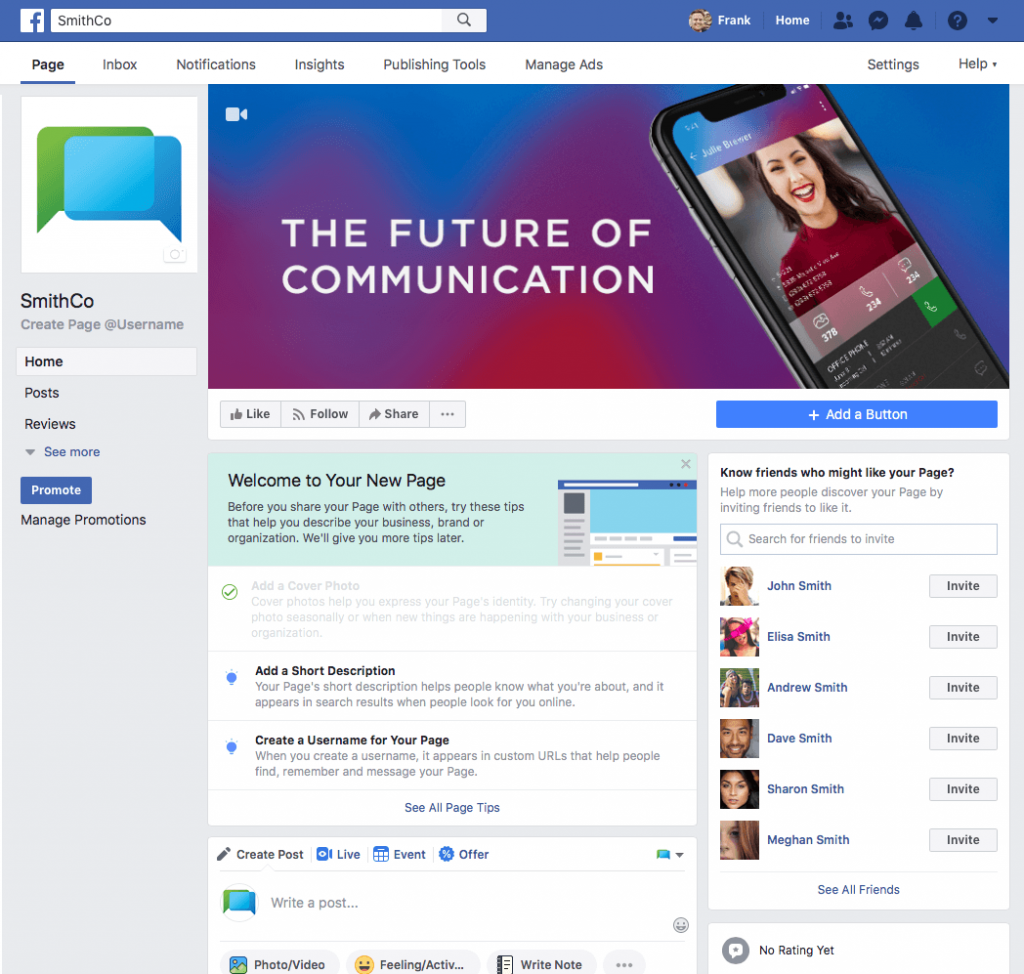 Add a Short Description
The next step you'll want to take is entering a description for your page. This needs to be, as Facebook suggests, a 1-2 sentence description that will help people understand what you offer. This really is a short description in that you are limited to a maximum of 155 characters. Enter the short description that best suits your brand. You can add more information later or modify the information—even then, you are still limited to a maximum of 155 characters.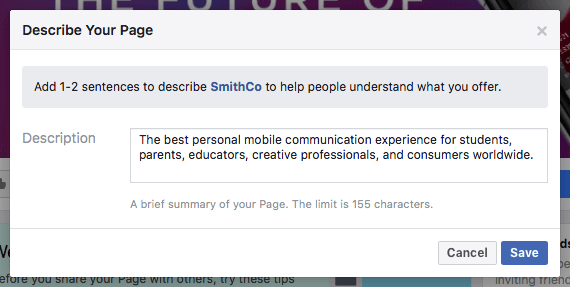 Create a Username
The last of the initial three Page Tips is creating your username. Your username is used to create your vanity URL. This is how you tell people about your brand's Facebook page so they can find you. Your username can be up to 50 characters long, but you should still keep it as short as you can. (You do not, in any way, need to use 50 characters.) Keep in mind that at this point with 2.2 billion active users you may have to go through multiple attempts to get the username you desire for your brand. Be sure to choose a name that works with your brand.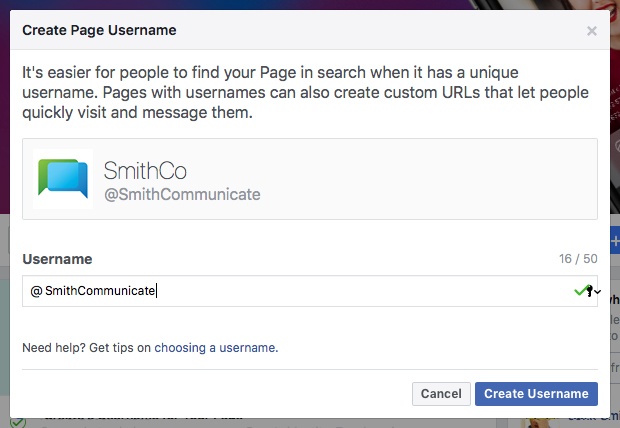 While you have completed the core three Page Tips, there are a few additional items that you will want to take the time to fill out. These items include Inviting people to like your page, adding a website, creating your page button, adding additional admins, and filling out the rest of your page's "about" information.
Hello World
Once you have completed these initial steps you will want to begin sharing your page with the world. The first thing is to publish your page, followed by posting right away, and then turning on messaging.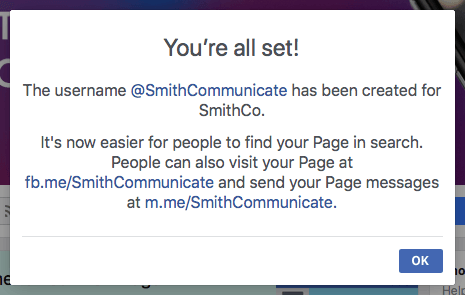 With your brand setup on Facebook you can now begin to interact with customers through Facebook. Once you have content consistent with your brand messaging and have worked information onto your Facebook page you can begin advertising and engaging your customers in a whole new way.
Have you set up your Facebook page? Let us know in the comments below; introduce yourself and share your page with everyone.
Ideas To Make Your Brand Better Now:
Determine the best Facebook page category for your brand
Create your brand's Facebook page
Publish your Facebook page and start posting frequently and regularly