GETTING FACEBOOK SQUARED AWAY
As you set out to establish your brand's Facebook page, you will find out that a very large portion of Facebook Interaction is based on visuals. Visual interaction is an important aspect of your brand's success on Facebook. In fact, according to a Buzzsumo,studies show that engagement of Facebook posts increases by 230% simply by adding images to your Facebook post. However, it's important to keep in mind that you need to keep your images relevant to the post and within a quality standard that matches your brand and audience. While adding visuals to your posts needs to correlate with your post content, you need to keep open to the realization that there are different types of images you can use, such as charts, visual representations, photos, comics, or screenshots. (You can add videos as well, though for this article we're going to focus on images only. If you're interested in learning about adding branded video for Facebook, let us know in the comments below.)
Getting Used to Various Sizes
Sizing your images correctly for your Facebook page helps in ensuring that your page looks the absolute best at all times. If you have a brick-and-mortar store you don't want the floors and shelves to look disheveled; It will drive customers away. No one wants to shop where it is dirty. With Facebook there are a few established image sizes of which you should be aware, at a minimum. The first size is your profile image.
Profile image
When you set up your Facebook page you are asked to provide a profile image. This image is used along with any post, comment, advertisement, and more on Facebook.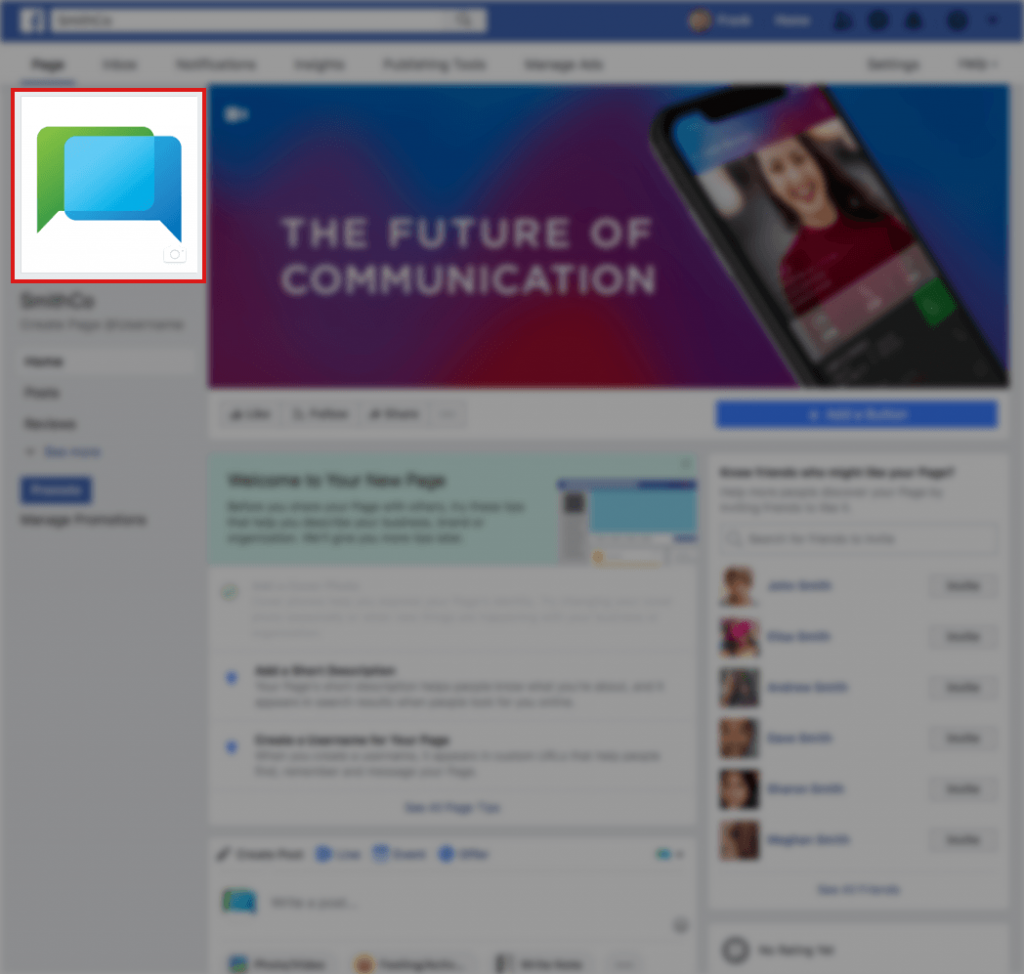 To properly size your profile image, you need an image that is sized as a square. The largest your profile image will be displayed is 170 x 170 pixels, on a desktop computer. For smartphones, the same image is automatically resized and displayed at 128 x 128 pixels. If someone was to view your page on what Facebook refers to as a feature phone, your image is displayed at a mere 36 x 36 pixels.
Your Profile image will also be displayed on your page as a square shape, however on posts and ads your profile image is displayed in a circular shape. (You upload a square image, and Facebook takes care of automatically morphing it into the circular shape. There is no way to upload both square and circular images.)
Cover Photo
The second visual size you need to be aware of is the Cover Photo. As you're setting up your page, you will be asked for this image. Similar to your Profile Image, your Cover Photo will vary based on the device that people use to view your page. On desktop computers your cover photo will be displayed at 820 x 312 pixels. On smartphones your Cover Photo displays at 640 x 360 pixels. If you're technically savvy (which most of us are not), you'll notice that those two dimensions are different ratios. What this means is that your image will be cropped on the smaller smartphone display. If you plan for this, your image will look better on your page.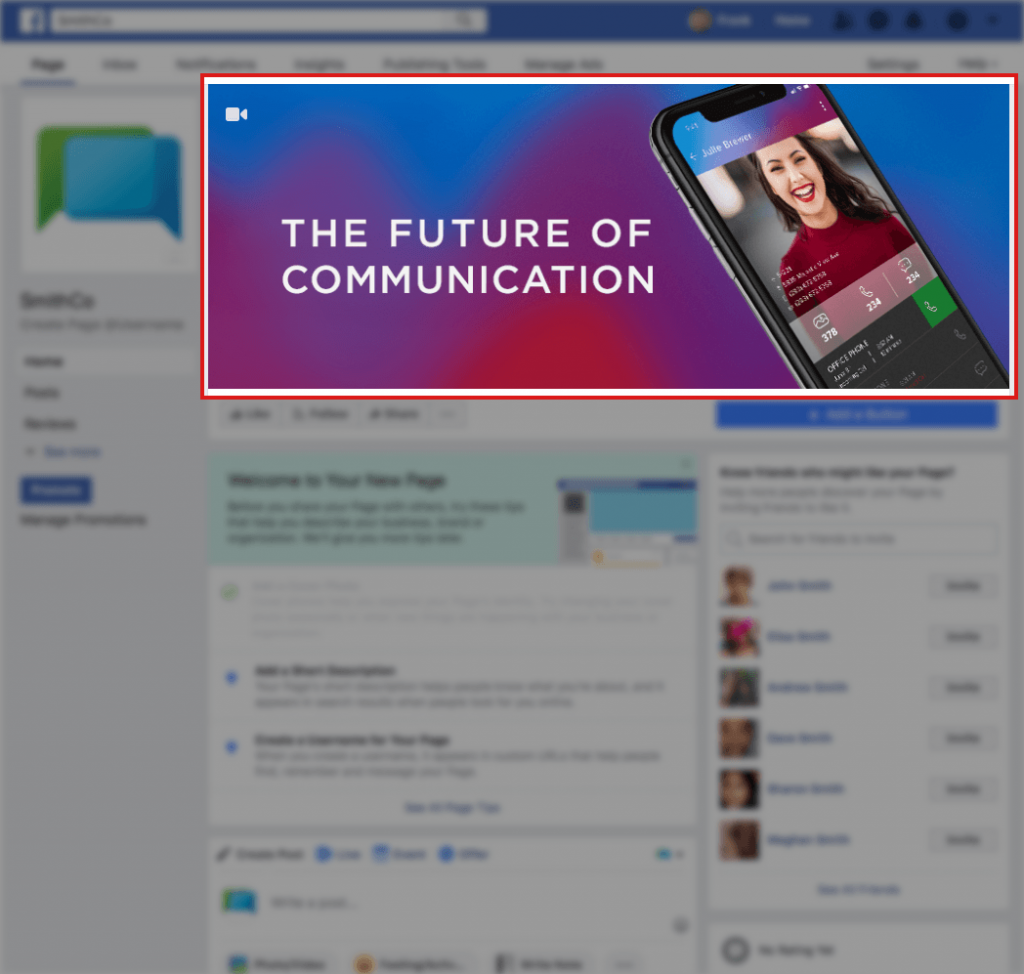 Knowing the display size will help you know the end result of how the image will be displayed. Facebook recommends you upload an image that is no larger than 851 x 315 pixels and no smaller than 400 x 150 pixels.
Sharing Images/Image Posts
Shared images are the most common engagement post type that you will use on your Facebook page. Shared images should be sized accordingly to be the most aesthetically sized image possible. For Facebook, these images are recommended to be sized at 1,200 x 628 pixels. This size will allow for the most consistent experience across devices.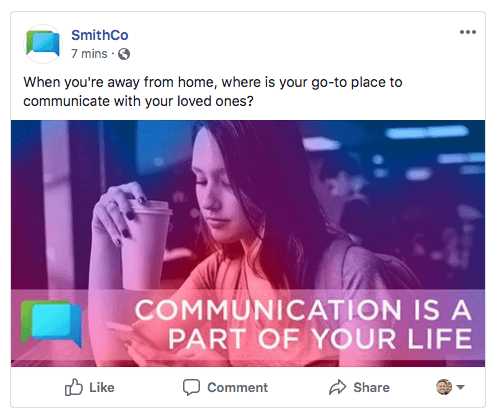 Sharing a Link
When you share a link to a website, blog or other URLs, Facebook attempts to pull in a preview or image automatically to go with your link. When it pulls in an image, the ideal size that you want is the same size as sharing images/image posts at 1,200 x 628 pixels. There are a few things to keep in mind as you plan on your image being used. If you display an image from the site, one of the images must be an image from the site. If you upload an additional image it will not replace the initial image selected. If you're a programmer or run your own site you can specify the image in your <head> tag section of each page of your website. If your site is powered by WordPress you can install plugins like Yoast SEO for WordPressthat handles the code for you. If you're going to be sharing a lot of links from your site you will definitely want to get this setup and running properly.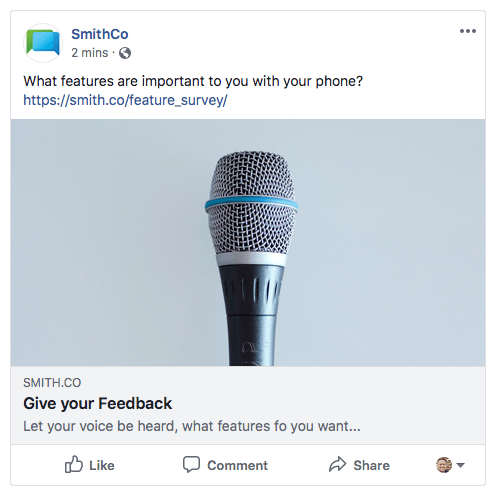 The Full Story
Facebook now allows for stories to be added to your page. While stories are only available for 24 hours, they can be a great way to share messaging and more with your customers. Your story images should be sized for phones at a size of 1,080 x 1,920 pixels. For the majority of users this will fill their screens, however as phones are beginning to go larger (iPhone X for example) you may want to size for those screens at a size of 1,080 x 2,340 pixels.
No matter what image type you use you'll want to make sure that you size your images properly and test, test, test. You want to make sure you know how the images look on a mobile device as 95% of all Facebook trafficis done via smart phones.
Ideas To Make Your Brand Better Now:
Upload a Profile Image for your Facebook page that looks good in all uses and devices
Upload a Cover Photo for your Facebook page that sizes properly for different screens
Setup your site to properly display the images you want displayed when a page is shared via Facebook