Research and Discovery: Research Stakeholders Needs and Perceptions
What Comes after Your Key Stakeholder Interviews?
This article continues examining, in depth, the parts of the branding process that I introduced in my e-book, 17 Mistakes that Can Harm Your Brand. In the book, I outline five phases of the branding process: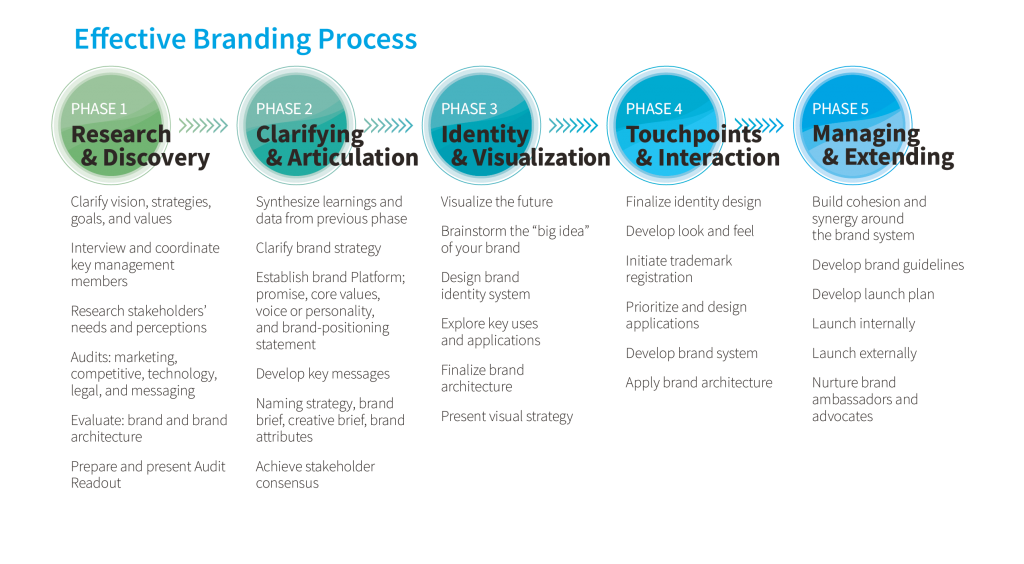 This article covers the third part of the Research and Discovery phase of the branding process—researching stakeholders' needs and perceptions. Previously we discussed the importance of interviewing key stakeholders. In doing so we highlighted the people you need to interview such as the C-Level Executives, as well as other people and departments involved with your brand. In these interviews, you should have discovered beliefs and points of mutual understanding that are present among the key stakeholders. You should have also discovered areas of misalignment. Both of these areas should be evaluated to see how the stakeholders' needs and perceptions compare with the brand as a whole.
Points of alignment and misalignment can provide some ideas of areas you need to focus on that can benefit brand ambassadors, improve employee morale, and enhance brand culture. Each area—alignment and misalignment—should be equally looked at and result in a plan to improve both areas.
Points of Alignment
During your interviews, the areas of greatest alignment should be highlighted. Say the majority of the key stakeholders, when asked "Why do we exist?", answered with the general phrase "To provide a way for our customers to quickly accomplish a specific task."
With this answer in hand, you can start to turn that into the beginning steps of your brand promise. It provides you a point to use in educating other employees and even key stakeholders as to what the brand offers customers. These common elements should coincide with your brand purpose; they should also provide the foundation to your brand values and strategy.
It is a misconception that points of alignment are areas that do not require a lot of work. The truth is that the areas of alignment still need work. It is important to figure out a method to maintain cohesive mentality and alignment. These points of alignment should be maintained with new hires and highlighted in brand culture activities.
Points of Misalignment
Misalignment leads to internal brand miscommunication. Often key stakeholders in medium- to large-size companies manage or lead other employees. If a key stakeholder's perceptions are misguided then there is a high likelihood that the perceptions of those under them are mistaken as well.
Determining the areas that there is discord among the key stakeholders provides a tremendous growth opportunity for your brand. As we pointed out with the aligned points, by being aligned you can add to your brand culture. Zeroing in on the areas of misalignment can lead to brand culture building activities. Getting alignment is vital to the success of any brand. Knowing your team's perceptions can help turn them from "just employees" to valuable "brand ambassadors."
Key Stakeholder Needs
Perceptions are part of the outcome of from your interviews. In addition to knowing what the various key stakeholders perceive is going on you can also learn what their needs are in order for them to fulfill their brand commitments. When it comes to fulfilling brand needs some areas can be the same, between departments, however there will tend to be different needs that are unique for each department. For instance, your HR needs will be different than the needs of your sales team. Review your notes from your interviews and focus on the items that come up that might hinder projects, goals, and deadlines from being accomplished. These areas should not be overlooked, as they can cause a delay in the various parts of the brand from coming to fruition.
Having key stakeholder alignment allows for greater key stakeholder perceptions as to what the brand stands for and offers your customers. Removing obstacles and taking care of the needs can quickly allow your key stakeholders and the people who work with them to focus on fulfilling their brand responsibilities. This, in turn, leads to increased pride in the brand and clears the way for brand value adoption.
As you work through key stakeholder perceptions, what do you feel are the most challenging negative internal perceptions your brand faces? We'd love to hear what you have gone through and what you may have done to accommodate the needs that arose.
Terms Used:
Brand Purpose: The reason for a brand's existence. Purpose is about what you do and not just what you say. Brand purpose moves beyond a brand's promise or its potential. It establishes why a brand exists beyond just the idea of making money.
Purpose-Driven Brand: A brand that strives to make meaningful social change a part of their core. Purpose-driven brands place the Why of their business front and center. They carry their Why through every way they conduct their business.
Brand Ambassador: Any person, internal or external, who is passionate and speaks highly of your brand. An ambassador will stand up for your brand, they will promote its virtues even before the product is available to the masses.