Touchpoints & Interaction: Prioritize and Design Applications
GETTING A HANDLE ON YOUR APPLICATIONS
This article continues examining, in depth, the parts of the branding process that I introduced in my e-book, 17 Mistakes that Can Harm Your Brand. In the book, I outline five phases of the branding process: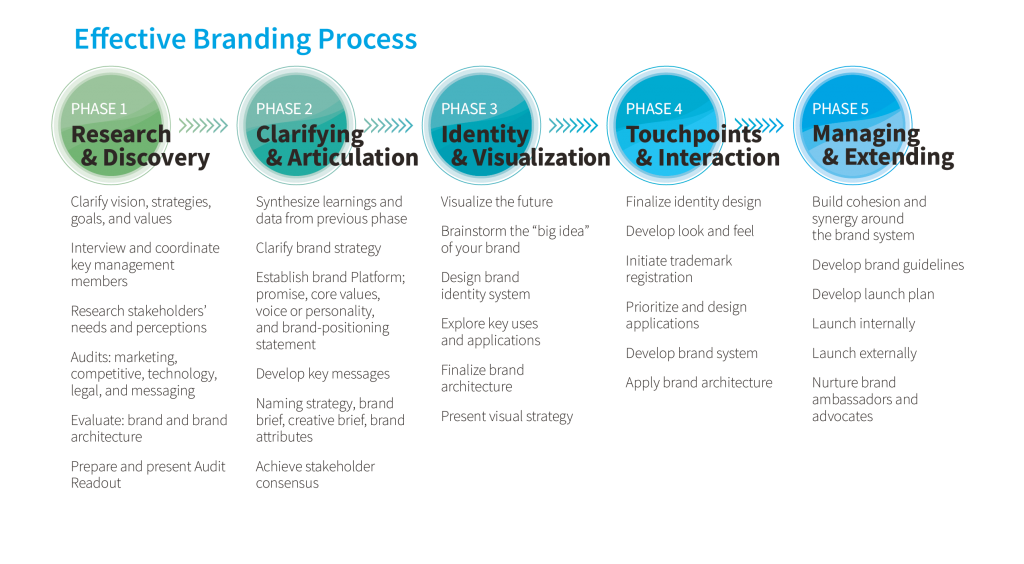 As you work your way through Phase 4 of the Branding Process, the fourth part is where you prioritize and design applications. These applications are not to be confused with computer applications or apps. The applications you need to focus on in this step are the areas in which your brand will first be in use. Previously, you worked on finalizing the identity designand developing the look and feel. This step continues the work you started previously and gets your brand identity closer to completion.
Previously I outlined some of the elements that you might need to consider when it comes to establishing your brand's visual identity. Establishing your brand applications goes beyond just the visual approach; now you need to determine how it will work. You also need to identify which applications get key prioritization. If we look at a few of the items that we covered when I discussed developing the look and feel, we can talk about some of the factors you need to consider when designing the applications of your brand.
You need to look at the whole picture when it comes to your brand. Often designers or agencies you're working with will insist that you need to develop your brand guidelines or brand standards at this point. This misconception leads to incomplete brand guidelines. Your brand guidelines will be established later (in Phase 5) to help with future brand-design decisions and direction. In preparation for when you do start establishing your brand standards, during this stage you will find it helpful to take detailed design notes. Use these notes later as a guide for the development of your design standards.
The basic focus of designing your applications is to ensure that all of the assumptions you imagined and conceptualized in the previous steps can be achieved. Designing your applications allows you to determine even the most minute detail that needs to be addressed to bridge the gap from concept to real world. Can the packaging concepts that were created previously actually be produced? Will it work for all packaging needs?
With each application that you explore you need to expand upon the brand strategy that you developed and make sure it coincides with your brand personality. Does your application design allow for your brand to expand and develop a clear understanding for your customers as to how you differentiate your brand from that of your competitors? This differentiation needs to span all touchpoints and methods of interactions with your brand. While you're establishing your brand, take the time to "sweat the small stuff." Every opportunity should be taken to ensure that your brand is using any chance it can to expand upon your brand's big picture.
By fleshing out your brand applications you can be sure that your brand is on the right path to being the best brand it can be.
Ideas To Make Your Brand Better Now:
Determine the highest, most notable applications and begin to finalize them first.
Keep meticulous notes on your application design to help yourself later when you are setting up your brand guidelines.
TERMS click to expand or collapse
Brand strategy: A company's long-term plan for the development of a brand into a success. Brand strategies include goals and affects all aspects of a business.
Brand Style Guide: A list of rules and requirements for representing the company visually, in text, video, in person, and more. The more specific and cohesive, the better an organization will appear to potential and existing customers.