Identity and Visualization: Present Visual Strategy
STRATEGY IS ALWAYS NEEDED
This article continues examining, in depth, the parts of the branding process that I introduced in my e-book, 17 Mistakes that Can Harm Your Brand. In the book, I outline five phases of the branding process: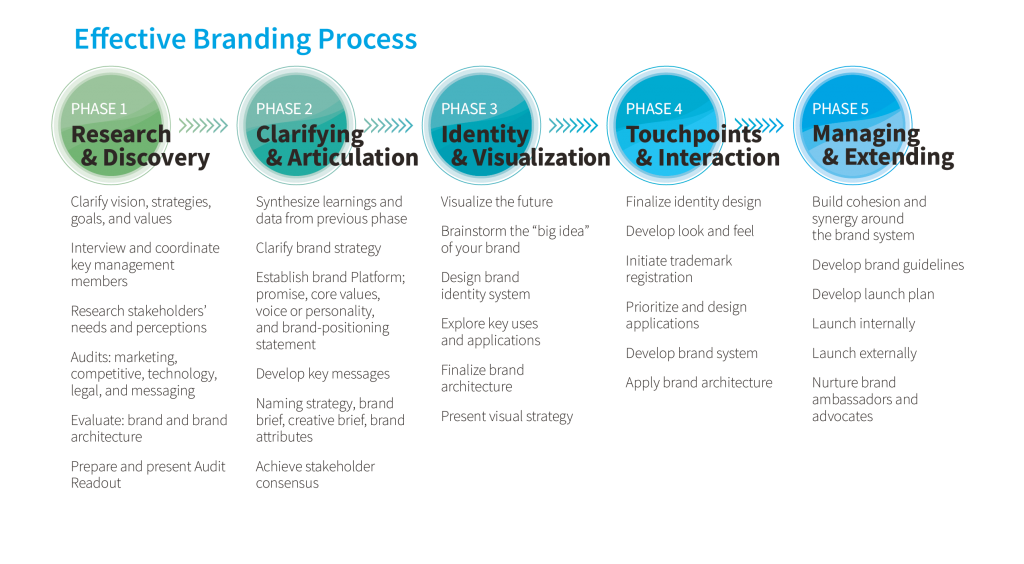 Now that you have worked through all the parts of the Identity and Visualization phase you are ready for the final part of Phase 3: Presenting the visual strategy. Similar to the final steps of Phase 1 and Phase 2, this step involves pulling in all key stakeholders to obtain consensus on the direction of the visual identity of the brand. I've previously covered what obtaining consensus meansin Phase 2. Remember that you're going after alignment not complete agreement. The way you present the visual strategy greatly impacts how well and how quickly people arrive at a consensus.
About Presenting
From years of experience working on branding and helping companies create their brand, I can tell you there are several ways your presentation can go and only one way that it should go. The manner in which you present your visual strategy can vary depending on the path you take.
Hired a Freelancer or Agency
If you hired a freelancer or an agency, which I discussed previously, they are going to want to present their work, plain and simple. This is one of the areas that many will imply you gave up in turn for hiring them. You need to realize why most do this—it's to show their relevance. This isn't a bad thing, I am just trying to get you to understand that their goal is money. I don't mean that they are greedy; they are simply watching out for their bottom line, as you are with your brand. If you go the freelance or agency route, work with them and arrive at a cohesion or agreement of how you "own" the presentation, but they are there to help. The last thing you want to have happen is that someone you hired shows something you have not seen.
Working on It Yourself or Internally
When you go the "in-house" route, the presentation falls solely on you. For many this is an intimidating process, but it's one that you can easily manage. If it is a lack of confidence that is causing you to have hesitation, keep in mind that all you're doing is presenting information based on research you have done. If it's a fear of public speaking, realize that there are a lot of people in the world who suffer from glossophobia. Practice and other exercises can help you to calm your nerves about speaking. Inc.comhas a great quick read about calming your nerves.
The Presentation
After you have completed your research and the Branding Process steps previous to this one you should prepare your presentation. What program do you use to give the presentation? This is simple, so don't over complicate this step—just use the software you have. Powerpoint, Keynote, Google Slides, or any presentation software will work. Keep the presentation simple. Remember you're not highlighting the snazzy features of the presentation software, you want all the focus to be on what your presenting, not what your presenting with.
Next, a lot of people ask what is necessary to include in your presentation. Similar to what I just said, you want to keep the presentation simple. Here is a list of slides that should be in your presentation, at a minimum:
1. Title Slide
2. Project Overview
2. a. Project goals
2.b. Definition of target audience
2.c. Brand positioning statement
2.d. Brand brief
3. Brand Identity Concept
3.a. Logo on white
3.b. One color split view comparison
3.c. Standard brand-usage mockups
3.d. Small usage examples
3.e. Large usage examples
4. Timeline / Next Steps
Slides 3a – 3e need to be done for each version you present. Never present more than three versions. In presenting more than one version, never present one that you don't believe in. Always present each version in the same manner. If you present more than one variation you should show them consistently.
Here are some sample slides. Showing what some of the slides listed above might look like.
When it is time to actually present your visual strategy keep the following pointers in mind:
Limit Attendees
Your presentation should not include anyone outside of those involved since the beginning—your key stakeholders.The more people in the presentation, the higher likelihood things will go sideways. Focus on the C-Level Executives. Also, plan to include a 'silent' participant. This person should take notes of questions asked and decisions made. They should also record the meeting in case they failed to catch an important question or decision.
Settle on, Prepare, and Stick to an Agenda
Before the day of your presentation (preferably 3-4 days before) settle on an agenda and send it out to the attendees. Include not only the items that will be discussed, but also a clear statement of the expected decision-making process and expected outcome.
Practice
Your presentation will go smoother and better the more you practice. This is a vital presentation for your brand. This presentation will establish the course for the future of your brand. Put the time and effort into preparing accordingly; you don't want to just "wing it."
Setup
Look at the room space, if you can, and determine how you're going to set the room up. Focus on where you will be in relation to the other people attending. If the presentation equipment is available, make sure you know how to setup and run your presentation with the equipment provided. You don't want to show up the day of the presentation and discover there is no projector or screen.
Be Early
This is yourmeeting—you cannot be late. As people come into the meeting, thank each of them for attending.
Once you begin your presentation, make sure that you stay on topic. Follow your agenda and your notes from your practice. Be prepared to answer and address each question. While you can't predict every question that might arise, do your best to provide an answer. If you reply with "I'll check on that" or "I don't know" you will give the impression that your brand is not ready. If there is something you do need to check on, position yourself as having the answers – because you do remember you've done the research – and let them know that you will follow-up with the answer after the meeting.
At the end of your presentation do not ask "So, do you like it?" This is a personal choice question. Instead you can ask, "Has the brand met the brand goals?" or "Do you agree that this has met the target audience needs?" After your presentation, review the notes and compile a recap for attendees outlining the questions and the answers given, along with any decisions made.
This presentation might sound in depth, but that's because it is. As stated earlier, the future of your brand depends on the outcome of this meeting. If you follow the pointers provided above, you'll do great.
We'd love to hear how your presentation went, what you learned, and what you would suggest to other readers so we can help make each other's brands better.
Ideas To Make Your Brand Better Now:
Compile your presentation material and prepare your presentation
Setup and hold your presentation
Follow-up with attendees on questions raised
TERMS click to expand or collapse
C-Level Executives: Refers to the titles of the top-level senior executives within a company. These individual's titles tend to start with "C" such as; Chief Executive Officer(CEO), Chief Financial Officer(CFO), Chief Operating Officer(COO), Chief Marketing Officer(CMO), Chief Information Officer(CIO). Sometimes referred to as C-Suite or simply C-Level.
Brand-Positioning: How a brand defines their target audience, competitive differences, brand solutions, and their unique selling proposition (USP). Can also be referred to as brand positioning statements, brand strategy, brand essence, and positioning strategy.
Brand Brief: A guide outline what a brand is and what it is not. A reference document for understanding a what a brand is, where it's headed and what it is capable of.
Brand Identity: What a brand looks like including the logo, typography, colors, packaging and more.
Logo: A custom symbol or design that uniquely represents a brand.