Clarifying and Articulation: Naming Strategy, Brand Brief, Creative Brief, Brand Attributes
HOW OTHERS SEE YOUR BRAND?
This article continues examining, in depth, the parts of the branding process that I introduced in my e-book, 17 Mistakes that Can Harm Your Brand. In the book, I outline five phases of the branding process: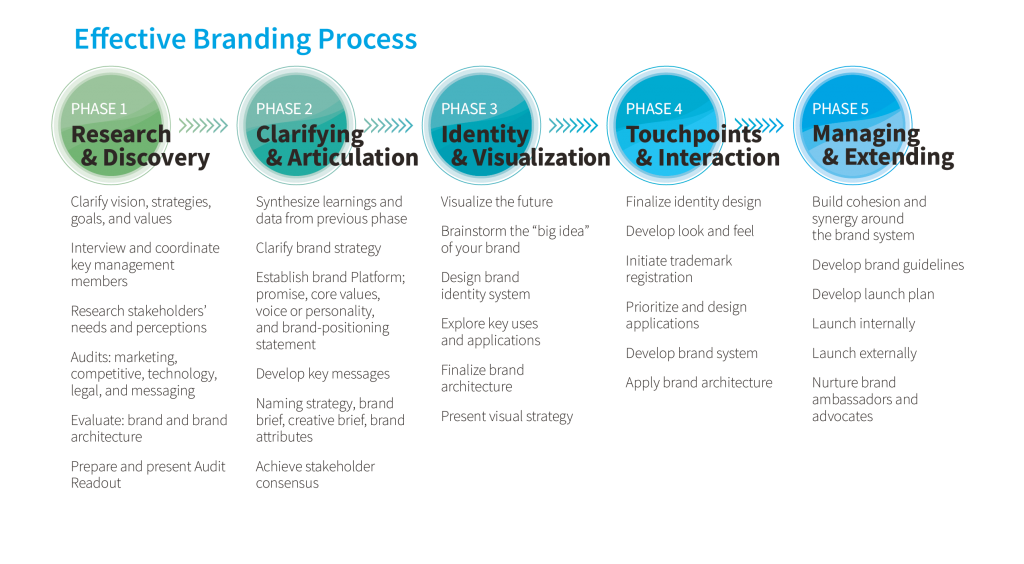 The second-to-last part of the Clarifying and Articulation phase of the branding process brings us to the "naming strategy, brand brief, creative brief, and brand attributes" portion. These four elements set the basis for how others interact with your brand and how you formally present your brand to the world. For many this is where they see their brand starting to "take shape."
Naming Strategy
I've written before about the naming process and what you should go through with regards to naming your brand. Your naming strategy is based on your brand architecturewhich you should have developed during phase 1 of the branding process. Refer back to the work and research you did during the brand architecture stage and refresh yourself on which branding architecture you're going to use—House of Brands, Branded House, or the Hybrid.
Once you have the appropriate architecture style selected, you need to explore the characteristics of effective naming—domain/protection, meaningful, positive message, visual, future ready, uniqueness, modular, and speakability.
With the architectureand characteristicsin place you'll want to keep in mind the types of names you can use. Brand names typically fall under one of seven types of names: founder, descriptive, metaphoric, made-up, acronym, regional or geographical, and combination.
Your Brand Brief
After naming comes your brand brief. Brand briefs and creative briefs are often confused. There is, however, a difference, and if you know the difference and plan each of them out, you will be ahead of your competition. I will cover creative briefs in a moment, but right now I'll go over your brand brief. Your brand brief is a big-picture overview of what your brand is and, by extension, is not. You're outlining the objectives and goals of your brand, along with an overview of your market along and the audience of that market.
Your brand brief is a culmination of the many parts of your brand that you have researched and worked on. You brief should include:
Vision Statement
Mission Statement
Brand Promise
Brand Values
Competitive Advantages
Brand Voice and Personality
Stakeholders
Each element of your brand brief should be in-depth enough to provide real guidance as to what and who your brand is. It becomes the backbone for your company to know and understand what the brand is, what it is going to become, as well as knowing what it could become.
Creative Brief
The creative brief, as I mentioned, is often confused with the brand brief. Your creative brief is a guide typically related to a single brand-marketing campaign. Creative briefs are created to be used when engaging with a service, freelancer, or agency. They provide the core guidelines that outlines the scope of the project and boundaries that keep the project in-line and in-harmony with the brand in general. A solid creative brief includes:
Project Title
Company profile (who you are and what you do)
Market position
Who are your competitors?
How you differentiate from your competitors
Who is your audience?
What is your brand's personality, tone, message, and style?
Project overview
Project objective
Project type
Outline of deliverables
Timeline
Budget
Stakeholders
Do you currently have a creative brief in use for your brand? How have they worked for you? Do you have any challenges in using them with your brand? How about advice that you would like to share with other branders? If you do, share with us below. If you currently do not have a creative brief you can download our creative brief template, below. It will help get you started in providing creative briefs for your brand.
Brand Attributes
Your brand at this point should have noticeable brand attributes. However, many brands have a hard time identifying their attributes. At the core of any brand there should be common attributes that lend to a connection between a brand and their customers. Your brand attributes are not necessarily things that you need to explicitly write down. However, everything you have done to this point should give you and your customers an understanding of how the attributes are covered by your brand. The attributes that any brand should have covered are:
Appealing
Passion and ambition
Unique
Relevant
Properly positioned
Credible and authentic
Consistency
Sustainable
All of the work you have done so far should show you how your brand meets each of these attributes. Does your brand currently meet all of these attributes? In which one or two areas does your brand need improvement? Let us know below, so we can work together to make your brand better.

Ideas To Make Your Brand Better Now:
Identify the proper naming characteristics and appropriate architecture for your brand.
Create and prepare your brand brief.
Download our creative brief template and update it to use with your brand.
Identify at least one brand attribute that you need to improve.
Share with us how your brand is doing.
TERMS click to expand or collapse
Brand Architecture: The way a brand structures sub-brands and how they interact with each other and with customers.
House of Brands: A brand that has several sub-brands/products. Each sub-brand/product is branded separately, with little to no "connection" to another product owned by the same masterbrand.
Branded House: A brand that has several sub-brands/products. Each sub-brand/product leverages the masterbrand for all offerings, providing connection which strengthens the masterbrand.
Hybrid Brand Architecture: A brand that has several sub-brands/products. Each sub-brand/product is branded using either the house of brands architecture or branded house architecture.
Brand Promise: The expectation the brand owner has in relation to what the brand must do, is willing to do, and what it will provide their customers.
Brand Values: The heart and soul of a brand. Impacts every part of a brand from new hires to the CEO and owners.
Brand-Positioning: How a brand defines their target audience, competitive differences, brand solutions, and their unique selling proposition (USP). Can also be referred to as brand positioning statements, brand strategy, brand essence, and positioning strategy.
Brand Attributes: The emotional and practical connections associated with a brand by customers and employees.
Creative Brief: A guide typically related to a single brand marketing campaign, providing direction for ensuring brand objectives and needs are met.
Brand Brief: A guide outline what a brand is and what it is not. A reference document for understanding a what a brand is, where it's headed and what it is capable of.