Managing & Extending: Launch Internally
INTERNAL IS IMPORTANT
This article continues examining, in depth, the parts of the branding process that I introduced in my e-book, 17 Mistakes that Can Harm Your Brand. In the book, I outline five phases of the branding process: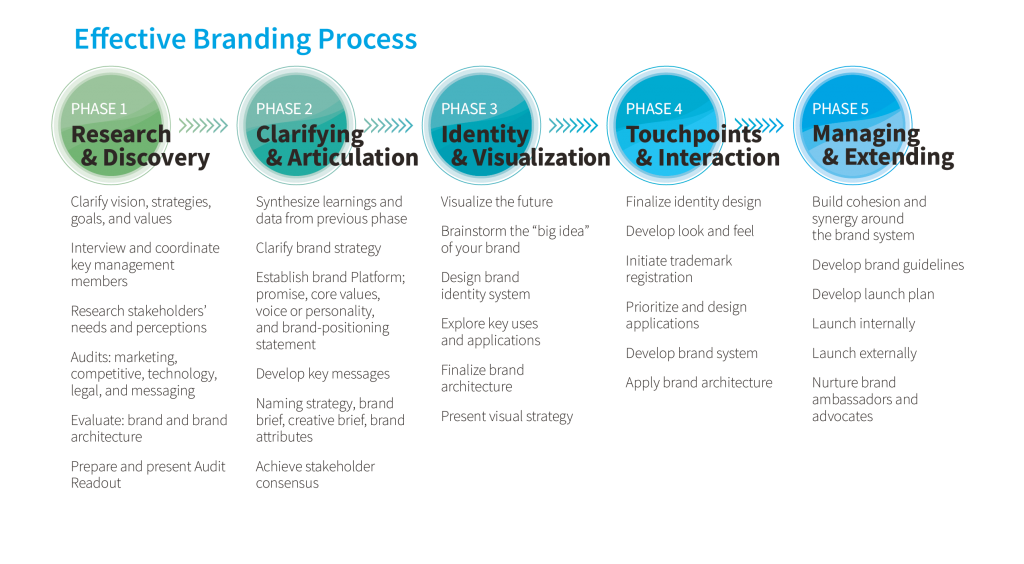 In the previous step, we talked about establishing your launch plan and the importance of having a launch plan in place before launching. We also talked about how your launch needs to be split into two parts: an internal launch and an external launch. This article focuses on the first—launching internally. This fourth step of Phase 5 of the branding process is an often-overlooked and mishandled step that many brands large and small overlook.
Most people are focused on getting out in front of potential customers because, let's face it, that's where your income is generated. Because of this, many brands look at internal launches as a waste of resources, money, and time. What they fail to understand is that a proper internal launch is paramount in the onboarding of the overlooked brand asset: brand ambassadors. We have talked about brand ambassadors before previously at BrandingPower. Successfully engaging your brand ambassadors, which is often your internal employees and stakeholders, helps your brand in many ways. When you launch internally you are educating your brand ambassadors with knowledge as to what your brand is and what they can expect as your brand moves forward.
The internal launch is the fastest and most cost-effective way of getting employee consensus and helping them understand their place in the brand's success. Where most brands fail is thinking that this is a process that can be handled in a single company-wide email or in a five-minute message in a meeting. These quick and ill-thought-out methods of communication can instill a sense of non-importance to your employees, which causes them to think that the brand is not a real importance.
Time to Make an Effort
Any internal launch needs to make an effort to engage everyone considered an internal resource. As mentioned, your internal launch instills a sense of understanding to everyone who will help sustain your brand. To better understand the effort you need to put into launching internally, it will help to know understand the basics.
Communicate the Why
Just as with your potential customers, understanding a brand's whyhelps brand ambassadors form an emotional connection. When your brand ambassadors form an emotional connection to your brand they are more inclined to want to see it succeed. With explaining the why, you help them understand what the brand is and what it means. Focus on establishing why the brand is important, not just to the company's bottom line, but also why it is important to the brand ambassadors and to potential customers.
Share the Future
Your brand ambassadors need to know the future of the brand if they are to form any type of connection. People, in general, do not make lasting connections to something that they feel is going to be short-lived. Share the mission of the brand and the goals that are going to help the brand meet the vision for the future.
Unveil the Brand
Share the basics of your visual identity. Provide enough visuals to help give an understanding as to visual aspects of the brand. Don't show the style guide if you have a launch event. Focus on the brand elements that will help them at that time. Give them branded, tangible materials such as t-shirts, mugs, water bottles, hats, pens, or their business cards. Launch an internal website dedicated to how they can live the brand and the resources available to them so they can embrace the brand.
Top-down Understanding
Firmly establish that the brand is a top-down initiative. Employees can quickly pick up on discord or disagreements on brand direction. Provide a clear understanding of the C-level executives' support and universal understanding of the brand's direction and its importance.
Sense of Ownership
With the emotional connection from knowing the why and the understanding of the future plans, help your brand ambassadors realize that they are vital to the success of the brand. Instill a sense of ownership in the brand ambassadors. When people feel they own something they work to protect it; they want to keep it safe and do all they can to make it better.
More than a Moment
Follow the old adage—you only have one chance at a first impression. Create a "moment" to bring the brand ambassadors onboard. Create internal buzz and excitement. Create a sense of inside information. Build a buzz leading up to the launch. Establishing a buzz leads your employees to feel they have the inside track. By making a big deal of launching to them, they feel they are more than an afterthought, which helps with their sense of ownership and brand connection.
By focusing on the basics of an internal launch you can help your brand ambassadors embrace the brand when you finally launch externally. With the support that brand ambassadors offer, your brand will be positioned to be more successful. Be honest with your brand ambassadors to instill a true sense of partnership. Your brand ambassadors' engagement and support will help your brand be better.
Ideas To Make Your Brand Better Now:
Determine how you will employ the basics of an internal brand launch.
Help C-level executives understand the importance of an internal launch.
Follow through with your launch plans.