Research and Discovery: Interviewing and Coordinating Key Management Members
When Branders become Interviewers
This article continues examining, in depth, the parts of the branding process that I introduced in my e-book, 17 Mistakes that Can Harm Your Brand. In the book I outline 5 parts of the branding process: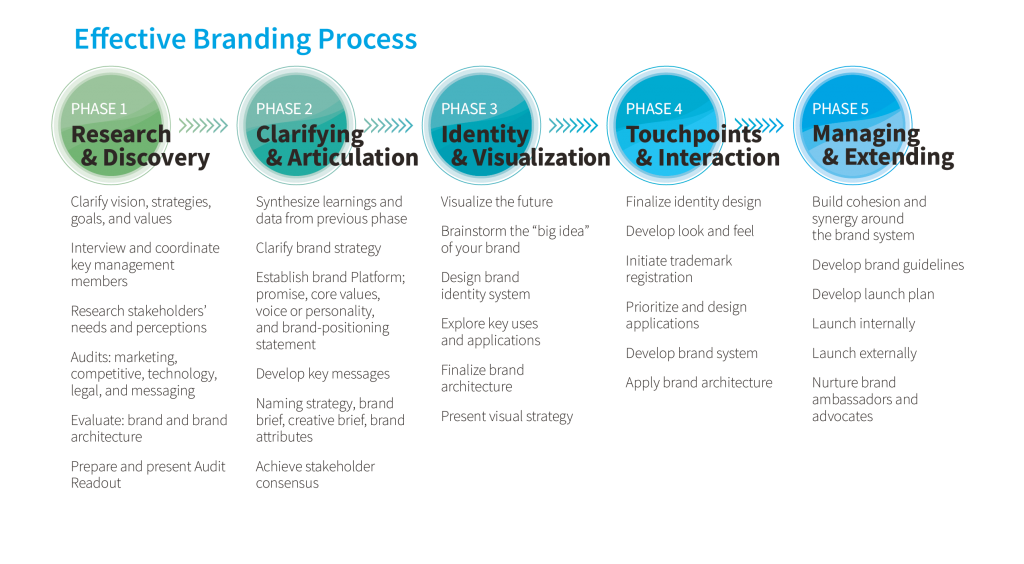 What I wanted to go over in this article is another part of the Research and Discovery phase. In a previous article, I discussed developing your vision, strategies, goals, and values. In this article, I'm diving into the second part of the of this phase, which is to interview and coordinate key management members. The idea of interviewing key individuals can seem like an easy thing but it's a part of the branding phase that takes a significant amount of time and energy.
If you are a lone individual, as is the case with sole-proprietors or many entrepreneurs when they are first starting out, you might think you can skip this phase. You shouldn't. The interview process is a key part of the research and discovery phase. If you are a lone individual and you find the idea of "interviewing" yourself odd or uncomfortable, you can ask someone to actually interview you or you can hire someone to ask you the questions. The important thing to realize is that the interviews need to be in-person, out loud, and free from distractions. And if you are doing your own interview, it is far too easy to become distracted.
Your interviews allow you several immediate benefits that you may not come across otherwise. Through the interview process, and by the simple fact you're asking questions, you can gain insights into where the market and organization are going. You are also able to engage people on the important aspects that impact your business. You gain more clarity which can help you break through the standard jargon that can cause confusion.
Where to Begin
The first step in this portion of the branding phase is to make sure that all the people involved are aware of the importance and agree to what is going to happen. If you're alone this is easy; if you're in a larger company this can be harder. If you're in a larger company you need the support of the highest-level individual you can. This person needs to be the champion for the cause. This needs to be an individual that will help gain buy-in from the rest of the higher-ups.
Often a good way to do this in a company is through an e-mail. This e-mail, again coming from the higher-up, will outline the importance of the process you're working on. It will also provide clarification as to what those involved can expect to happen. By having the higher-level individual send the communication, you increase the likelihood of the e-mail not being ignored.
Sample emails
The lone individual asking for help.
Dear XXXXXXXXX,
My company is undergoing an important step in helping develop a strategy that will allow me to better build my brand and focus on the areas that will help my customers. I will be able to articulate my value proposition and establish the customer experience better.
I would like to invite you to help me with this process by interviewing me. This interview will become an invaluable tool that I can refer back to often as I shape the strategies that will better guide my company. Your interviewing me will give me the chance to articulate, out loud, the thoughts in my head.
This interview should run approximately one hour in length. With your help, at the end of the interview I will have better insights into how my company/brand is different from my competitors. I will be better able to articulate my value proposition and understand my customers better.
If I can count on you to help me with this we will determine a time that works best in the upcoming week(s) where we can get together and accomplish this important step. I will also provide a list of questions that you can use in interviewing me.
Thank you for your time and help in this important step for my company!
Larger multi-person company email:
XXXXXXXX-
Our company is undergoing an important step in helping develop a strategy that will allow us to better build our brand and focus on the areas that will help our customers the most. Our value proposition will improve, again while helping us better engage with our customers.
For this to work we need your help. We would like to interview you, gain your insights, and add them to insights from other key people in the business. This 60-minute in-person interview will be paramount in helping us get this important step moving forward.We are looking forward to hearing your take on issues such as challenges we face, how we are different, and how we engage with our customers.
As stated, this interview should last approximately 60 minutes. It will be scheduled for a time in the upcoming week(s) to allow for an uninterrupted sit-down. To better prepare, we will provide you with a list of questions that we will use to steer this interview.
Thank you for your time and understanding for how important this is to our company!
Remember: The initial e-mail should be sent out by the highest-level individual who backs this phase of research and discovery.
Scheduling
As soon as the e-mail is sent, you move from invitation to scheduling. Scheduling can be tough, as everyone always seems to be busy. Scheduling is important in that if you just plan your interviews on the fly, you will become disorganized. As you schedule group participants, look at the area in which they help. Is it, for example, your sales leadership? Schedule people in the same area for the same day. Interviewing a keyholder might help you steer the subsequent interviews.
To help with scheduling keep these items in mind:
Plan on 60 minutes: You need to leave adequate time for your interviews. Higher-level key stakeholders will want the interview to be as short as possible. But by being prepared, you will get them to open up more and as a result they might actually run a bit over. Give yourself enough time between interviews, as to not be late for the next interview.
Plan ahead: Discover when key stakeholders will be away. Key stakeholders who will be out of the office should be scheduled first and take top priority.
Provide questions:When you send out the actual invitations to the participants, include the interview questions. By providing a way for participants to prepare, you will maximize your interview time, as the interviewee will not need to spend time thinking of their answers. Also, allow your questions to "stand on their own." You will probably have interviewees who want to discuss or get clarification on the questions before the interview. If you start to do this, you'll end up with an "interview before the interview," which can degrade the spontaneity and flow you really need in the actual interview.
Who are Key Stakeholders
Determining beforehand who your key stakeholders are can help reduce wasted time and energy. If you're a lone operator, this list is easy. If you're a large company this list can seem never-ending. Here are a few suggestions on who to interview:
Executive Team:Your C-Level Executives should all be included. These individuals will be the hardest to get time with. In addition to the C-Level Executives, include division presidents and senior vice presidents.
HR Leaders: Your Human Resource leaders should be able to talk about employee engagement and objectives. They can also talk about recruiting efforts and strategies. All of which add to the culture and internal health of your brand when it comes to employees.
Product Managers:Your product managers will be able to speak to the product strategies in place. They can also discuss customer personas/avatars, your product's history, along with past and upcoming development roadmaps.
Customer Support Managers:Support Managers can provide insight into customer problems, concerns, and issues that arise or have arisen in the past.
Sales Team Members:Knowing the sales process of your business will help you understand the customer decision process. If your company includes internal and external sales representatives you should include some of both in the interviews.
Marketing Members: With the CMO already included on your C-Level Executive team, you should include marketing directors and managers who can talk about marketing strategies and marketing engagement activities.
While every company has a different number of employees, and each of these groups can have several employees, do not feel that you should interview every employee. The only group listed above for which you should try to interview every person is the C-Level Executives.
Should you include customers?Adding customer voices to your research and discovery phase can add a great deal of insight into your branding process. It can validate or invalidate the insights you gain from your internal participants. Be aware that gathering customer insight can add cost. Also keep in mind that you more than likely won't interview enough to meet statistical significance. Your sales team should be able to help in guiding you to quality individuals. If you are a lone individual, you should try to include several customers to add to your insights.
Interview Questions
When setting up interviews you need to take the appropriate amount of time in crafting questions that will yield the insights you are needing to get the answers you need. It is also good practice to create specific questions pertaining to the group to which the stakeholder belongs. Here are a just a few questions to get you started.
What business are you in?
Why was this company/brand created?
Can you describe your products and services?
Who is your target market?
What is your competitive advantage?
Who is your main competition?
How do you differ from your competitors?
How would you describe your value proposition vs. your top competitor(s)?
If you could only communicate one message about your brand/company, what would it be?
How do you measure brand success?
What values and beliefs unify your employees with your customers?
What do you want consumers to leave thinking about the brand/company and its products, and how do you want them to feel when they leave?
Why do customers choose your products over a competitor's?
What are your major goals for the next 1, 5, and 10 years?
What are your 3 biggest sales challenges? Will these stay consistent in the short-term future or do you see new challenges emerging in the next 2-5 years?
What are your major sales objectives, strategies, and metrics for the next couple years?
Can you describe the purchase process for these target users?
What does the sales process look like?
Wrap-up
After you have gone through and interviewed the key stakeholders, you need to go back and compile the results. To help you prepare for the compiling portion, I suggest you record the interviews. As you compile your findings look for common trends, such as goals and challenges. Note quotes and summaries that were provided that correlate and support the common themes.
Look also for the areas of contradiction. These can provide areas where your brand needs help and attention. Determine strategies and goals to overcome these contradictions. Remember that contradictions can turn to confusion, then to negative thoughts.
Once you have completed the interview and wrap-up portions you should have a strong tool to use in establishing your brand strategy, USP, and brand values. What do you think will be the biggest struggle you'll face as you begin the interviewing process? Have you gone through the interview process before? If so, what was the most surprising discovery your brand made?