Touchpoints & Interaction: Initiate Trademark Registration
Protect Your Work
This article continues examining, in depth, the parts of the branding process that I introduced in my e-book, 17 Mistakes that Can Harm Your Brand. In the book, I outline five phases of the branding process: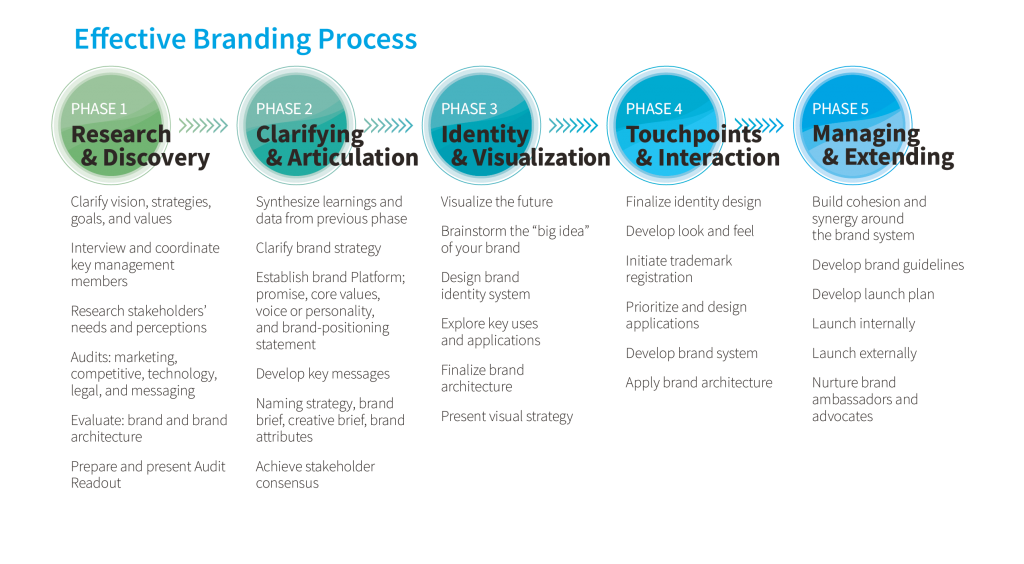 Up to this point in the Branding Process you have done a good amount of research and work. The next part of Phase 4 is Initiating trademark registration. This step focuses on protecting the work that you have done as well as protecting your brand moving forward. Trademarks protect certain brand elements, or your intellectual property, from unauthorized use by others. The process of obtaining a trademark varies from country to country. For this article, we will focus on the US trademark process.
As we begin I want to clarify that I am not a trademark lawyer, or any type of lawyer for that matter. We are going to cover the basics of the trademark process and how it relates to your brand. When it comes to obtaining, maintaining and protecting trademarks, it is in your best interest to seek out a lawyer that specializes in trademark laws and/or intellectual property rights.
As you start out in protecting your brand you need to educate yourself on the process, as well as what is and isn't protected by obtaining a trademark. By having an understanding of what goes into establishing your trademark you can get the ball rolling. A trademark protects a variety of elements that, together, constitute what is known as your "intellectual property." These elements typically include a word that describes or identifies a product or a company, a name, a unique symbol, or a product. A valuable part of trademarking your brand, as most companies do, is that it helps build brand awareness and trust. If you didn't trademark your brand, anyone can use it (including your product or company name) and reap the benefits of your hard work. If anyone can use your brand then there is no trust built with your company.
In the United States, there is only one way to obtain trademark protection, and that is to fill out an application and submit it to the United States Patent and Trademark Office(USPTO). Again, as mentioned before, because the process can be a daunting and frustrating experience for some, it is often helpful to hire an experienced trademark attorney. If you do need an attorney's help, it is important to remember that the attorney must be able to practice law in the United States. Hiring the wrong person can hinder your application time and its validity.
REGISTERING YOUR TRADEMARK
According to the USPTO there are six steps involvedwith the trademark application process. Here is a quick rundown of these steps.
Step 1: Is a Trademark Application Eight for You?
With many misconceptions pertaining to trademarks, many people feel that they need one when often they don't, or they feel another form of protection—such as copyright—will meet their needs. This, as well, often tends to be incorrect. It is important to learn the differences between things such as trademarks, copyrights, patents, domain names, and more so that you can focus on the protection that is best for your brand.
Step 2: Get Ready to Apply.
Once you have determined that trademark protection is best for your brand, you need to select what it is that you want to trademark. Keep in mind that not all marks can be registered with the USPTO. While at the same time be aware that not every trademark is legally protectable. As you begin, the USPTO recommends you consider two things:
Is the trademark you want registerable?
How difficult will it be to protect your trademark?
The second item is important because the protecting and enforcing a trademark falls on the person or company registering the trademark.
As you get ready to apply you will also need to:
Step 3: Prepare and Submit your Application
The USPTO allows for online applications. When you prepare to submit your application, be aware that there are fees associated with filing. There are initial application fees for electronic filing, and the initial fee amount changes based on the application form you use, TEAS Plus, TEAS RF, and TEAS Regular.
TEAS Plusis the least expensive and most streamlined process. You also agree to receive all communication and correspondence electronically. TEAS Plus is $225 per class of goods and/or services.
TEAS RF (Reduced Fee)Is also a streamlined process. You are not required to file a complete initial application. As with TEAS Plus, you agree to receive all communication and correspondence electronically. TEAS RF has a fee of $275 per class of goods and/or services. (This is considered a reduced fee when compared to the TEAS Regular filing.)
TEAS Regularis if you do not have a completed initial application AND you do not want to have communication and correspondence handled electronically. TEAS Regular has a fee of $400 per class of goods and/or services.
With regards to fees, it is important to note that if for any reason your application is denied, canceled, or ends in any way before a registration decision is made, any fees paid are generally NOT refunded.
Step 4: Work with the Assigned USPTO Examining Attorney
After you have submitted the application and the USPTO has determined that your application meets the minimum requirements for filing, you're assigned a serial number and assigned an examining attorney. Keep in mind that this is not a fast process and can take several months. During this time, the examining attorney will review your application again, ensure all required fees have been paid, and ensure that everything falls within the statues and established rules.
If the examining attorney finds reason for the trademark to not be approved and registered, or that there are some requirements that must be met, they will create what is referred to as an Office Action or Office Letter. This will outline the problems and, if applicable, the steps needed to resolve possible issues. Most responses to Office Actions must be received by the USPTO within 6 months from when they are issued. If you do not respond in time, your application will be considered abandoned.
Step 5: Receive Approval or Denial of Your Application
Once all previous issues are resolved, or if no issues were discovered, the examining attorney will approve your trademark for publication, or review, in what is called the "Official Gazette." Once It is approved for publication you will be notified of the publication date. With your trademark listed in the Official Gazette, other parties can review your application. If they feel that your brand infringes or may damage their brand by granting you the trademark, they may file an opposition or ask for more time to review. They have thirty (30) days from publication to raise either issue.
If no one has an objection or issue with your possible trademark, your trademark moves to the next stage—the USPTO will grant your registration application. You will then be given notice (usually within about 8 weeks) that you may use the trademark. Once you receive this notice your brand has six months to begin using the trademark and provide a Statement of Use (SOU). Or, you may choose to ask for a six-month extension to file your SOU.
Keep in mind that this notice to use the trademark DOES NOT mean that the trademark is registered. The examining attorney will still need to review your SOU. If everything is found to be in order, then you are permitted registration.
Step 6: Maintain Your Registration
Following approval of your SOU, the USPTO will issue (typically within two months) your trademark registration. Your brand then needs to maintain and submit maintenance documents. Failure to do so can result in your trademark being classified as canceled or expired. If this happens you will have to go through the entire process again.
In maintaining your registration, it is important for you to realize that it falls on you to "police" usage of your trademark. If you find someone else is infringing on your registration, it is your obligation to bring any legal action. Registering your trademark opens up more opportunities for legal ramifications if someone infringes on your trademark. If someone does, you will be able to seek to have them immediately cease use of the name (if they are infringing on your name), require forfeiture of all profits earned while they were infringing on your brand, and pay damages, attorney costs, and fines.
™ vs ®
The registration process, as you can tell, can take some time. Does this mean you cannot move forward with your brand? No. You do need to realize that if you move forward with your brand, such as producing collateral, you may have additional costs. These costs could come up, for instance, if you need to reprint any material if the brand is possibly denied. You'll also have costs when you change from using a TMmark to a ® mark. The TM stands for "Trademark." This does not, however, mean that you have registered your trademark. Many companies use the ™ mark to indicate that they are or could pursue registering their trademark. Placing a ™ does not grant you any legal protection, whereas the ® does. Anyone can use the TMindicator; you are legally barred, however, from using the ® mark until your trademark has been officially registered with the USPTO.
Your brand is important, and while the registration process can seem long and daunting, the protection that registration brings will benefit your brand in many ways.
Ideas To Make Your Brand Better Now:
Determine if trademark registration is best for your brand.
Determine if you should pursue registration yourself or if a trademark attorney is best.
Determine if you are going to use a ™ indicator as you work through the registration process.
TERMS click to expand or collapse
Trademark: Distinct logo, name, design, symbols or combination of elements used to distinguish a brand, product, or service.
Registered Trademark: A Trademark that has been registered with a prevailing agency to provide legal protection
Intellectual property: Any work or invention derived through a creative process, such as product design, which can be protected under patent, trademark, copyright, etc.