Touchpoints & Interaction: Finalize Identity Design
THE PATH TO FINALIZATION
This article continues examining, in depth, the parts of the branding process that I introduced in my e-book, 17 Mistakes that Can Harm Your Brand. In the book, I outline five phases of the branding process: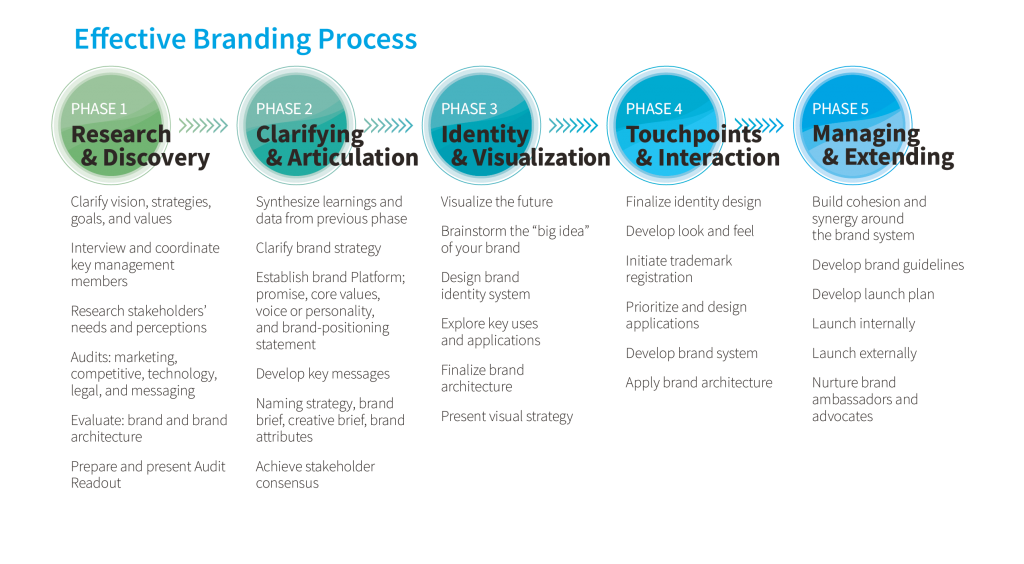 After your visual strategy presentation, it is time to move to the first part of Phase 4: Finalizing identity design. The term finalizemight be a bit misleading; you might be thinking that the branding process is finalized. This is not the case. In this part of the branding process, you are finalizing the design of the logo and core elements of your visual identity.
Following your visual strategy presentation, you should have a list of questions that key stakeholders will have raised and that you were not able to answer during the presentation. You or your note taker should have taken notes, or even recorded the presentation. Review these items to help determine the questions that need answered.
All the questions and answers at this point should serve one purpose—moving the branding process forward. Unless there was a significant shift in your strategy that arose after the beginning of the branding process, there should not be any questions or answers at this stage that cause the project to start over. Always follow-up on the questions quickly; the longer you wait to respond, you increase the likelihood that those questions will turn into project stoppers. Your answers should be direct and clearly answer the questions asked. As you respond to the questions remember that you need to back everything up with data you collected previously. Personal opinion can undermine all the work or effort that you have put in.
Finalizing the design
Depending on the number of ideas you presented (remember you should never present more than three) your next steps will fall into one of two areas.
Undecided between Two Options
If you left the presentation without a clear "winner" you should have at least narrowed it down to two of the three options. You should have a clear understanding as to the direction each of the two options needs to go. Be careful that you don't allow the two options to turn into an ill-conceived spur-of-the-moment "frankensteining" of the two options. Each of the ideas you presented should have been produced based on data to back them up. Creating a spur-of-the-moment look/option undermines the work and effort that went into the process before. Doing this turns the project into a design by committee, which rarely (if ever) relies on data collection and is instead driven by personal taste.
When you have two options, focus on improving them and then reschedule a meeting to review the changes and modifications. This meeting should include everyone from the previous presentation. During this follow-up meeting, focus solely on the two design options; do not present new ideas or even any previous work. When you leave this meeting, you should have a clear "winner" and be able to move forward.
You Have a Clear Direction
If your key stakeholders achieve a consensus on an option presented in your visual strategy presentation, or in the potential follow-up meeting, you will still have edits or changes to make. These changes are to tighten up the look. Perhaps you needed to focus on modifying the typography a bit, or the colors needed to be changed slightly. Whatever the edits are, this is where you focus on making the modifications. Do you need to create versions of the brand mark for different divisions or sub brands? This is where you work on fleshing out the finalized treatment that correlates to your brand architecture.
Finalizing your identity design and taking care of the minute details and provides you with a brand mark that all of your key stakeholders can align with. In short, it starts to shape the visual feeling of your brand.
Ideas To Make Your Brand Better Now:
Review any key stakeholder's questions from your presentation and provide quick accurate answers.
If you have two options, focus on getting a final option selected.
With one option selected flesh out any changes needed to have consensus among key stakeholders.
TERMS click to expand or collapse