Identity and Visualization: Finalize Brand Architecture
STRATEGY IS ALWAYS NEEDED
This article continues examining, in depth, the parts of the branding process that I introduced in my e-book, 17 Mistakes that Can Harm Your Brand. In the book, I outline five phases of the branding process: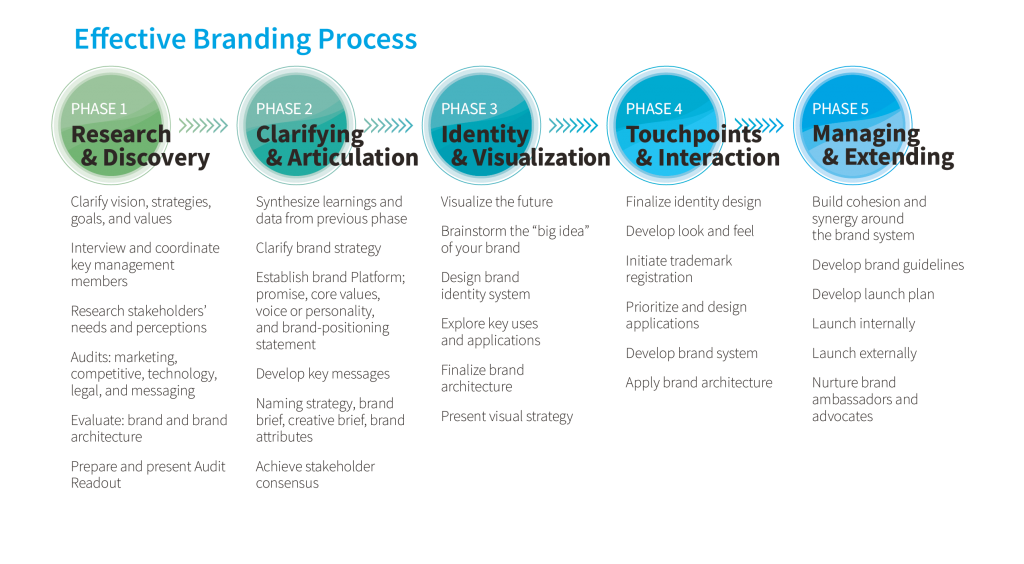 Finalizing your brand architecture is the fifth part of the of the Identity and Visualization phase. This part is directly connected to the of the fifth part of Phase 1. In that step you were introducedto brand architecture, what it is, and the three different types of brand architecture: House of Brands, Branded House, and Hybrid. As I discussed, each architecture type provides a unique way of presenting your brand. This part of Phase 3 continues the initial work done in Phase 1 and combines it with the results of each part of the branding process. The goal is to ensure that your brand architecture method will support your brand and that your architecture method will meet the needs of your market.
There are core aspects that any brand architecture needs to address and answer to become effective. Brands need to put strategic thought into implementing their brand architecture. All successful brands, no matter their size, have strong brand architecture in place. Their brand architecture answers key questions and as a result they experience the benefits.
Key Questions
Successful brands with strong brand architectures in place have a clear understanding of four key questions that affect their brand or business. With these questions addressed and understood these brands are able to avoid problems later that can potentially derail the direction of the brand.

Question 1: How Is Our Brand Recognized?
How people recognize your brand affects the relationship they have with you. Successful brands have positive brand recall within their market. The brand hierarchy is known and understood to avoid confusion and chaos.

Question 2: How Do Our Offerings Tie to Our Brand?
No matter how your brand or company is set up, a properly established brand architecture system addresses how your offerings are connected to your brand. The way any offering ties to your masterbrand is clearly understood. The chances of an offering or sub-brand overshadowing the masterbrand are diminished.

Question 3: How Are New and Existing Offerings Named and Branded?
With your brand architecture in place you should have a clear understanding as to how new services are branded in relation to your masterbrand. If your new offering is a new service, needing its own branding and structure, the creation process is outlined as to how it is created.

Question 4: How Do Internal Divisions Impact Your Brand?
Your brand architecture doesn't just eliminate confusion with your customers. Your company understands that each division is connected to the brand and contributes to its success or failure.
Benefits
In addition to having an understanding of brand direction, your brand architecture provides you with benefits that become apparent as your brand progresses. As your brand grows with a functional brand architecture you'll find:
You'll Provide Better Clarity
As your brand progresses you'll discover that you move from educating people about your brand to maintaining your brand. Your customers and those working with your brand will have clarity on how all the parts of your brand fit together.
You'll Have a Better Understanding of Proper Customer Segments
By establishing and focusing on the proper segments and how your brand needs to interact with them, you increase the chances of successful marketing initiatives and new product/offerings development.
You'll Make Faster Improvements
When there is understanding and clear direction as to how your brand functions, it positions itself to be more agile in the event of new products, acquisitions, mergers, or partnerships.
There Will Be Improved Product Awareness
When everyone who works on behalf of your brand knows their roles and how their area impacts and connects with other parts of your brand, they naturally pass that on to your customers. When potential customers detect cohesion, it leads to more conversions from prospects to customer and adoption of other services or offerings.
Better Trust and Confidence
As your brand grows, following your brand architecture, your brand will build confidence with customers. Customers will begin to associate trust with your brand, and brand trust is something you cannot buy.
Increased Brand Equity
Your brand equity will increase as your brand architecture shapes the way your brand grows.
As you can see there are many noticeable and important reasons illustrating the importance of finalizing your brand architecture. What is holding you back from completing your brand architecture? Or have you experienced any of the benefits of having a brand architecture in place? Let us know below, so we can all make our brands better.
Ideas To Make Your Brand Better Now:
Determine the brand architecture that your brand will follow
Answer the 4 questions to see if your brand architecture setup is on the right path
TERMS click to expand or collapse
Customer Segment: Process of dividing your complete customer base into sub groups based on similar traits, personalities to effectively market to them.
Brand: The mixture of tangibles, both physical and intangible that when combined and exercised and managed properly, differentiate one from a competitor.
Masterbrand: A specific brand that is the main point in which all other sub-brands/products brands base their branding.
Brand Architecture: The way a brand structures sub-brands and how they interact with each other and with customers.
House of Brands: A brand that has several sub-brands/products. Each sub-brand/product is branded separately, with little to no "connection" to another product owned by the same masterbrand.
Branded House: A brand that has several sub-brands/products. Each sub-brand/product leverages the masterbrand for all offerings, providing connection which strengthens the masterbrand.
Hybrid Brand Architecture: A brand that has several sub-brands/products. Each sub-brand/product is branded using either the house of brands architecture or branded house architecture.