Clarifying and Articulation: Establish Brand Platform
STRATEGY IS ALWAYS NEEDED
This article continues examining, in depth, the parts of the branding process that I introduced in my e-book, 17 Mistakes that Can Harm Your Brand. In the book, I outline five phases of the branding process: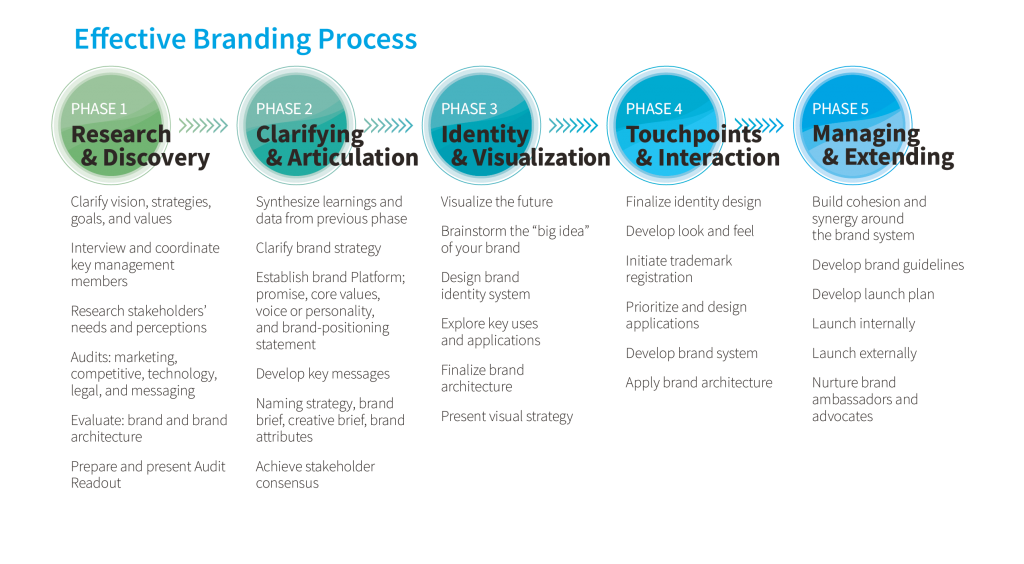 During the second phase of the branding process—after you have synthesized your learningsand clarified your brand strategy—comes establishing your brand platform. Your brand platform is a combination of many elements such as brand promise, core values, voice or personality, and brand-positioning. Each element brings focus to your brand and allows you to give guidance to what your brand needs in order to survive.
Your Brand Promise
Your brand promise is exactly what it says: It is your promise to your customers as to what you offer and what they will receive from you. Your brand promise is not just your tagline, slogan, or this month's advertising campaign, although it can be used as a part of or in place of them. While your brand promise is partially for your customers, it is also for your company. If your brand promises something it should impact how your company does business to ensure that it meets its promise. Let's look at two famous brand promises and how they impact their brand and business.
GEICO – 15 minutes or less could save you 15% or more on car insurance.
Geico's iconic brand promise is at times confused as being their tagline. GEICO uses their brand promise in place of a tagline. GEICO's promise that within a short time they can save you money has shaped their entire marketing strategy, web strategy, and business in general. While time-based promises can be tricky, they can be easily measured for accuracy. If every person that contacted GEICO took 45 minutes rather than 15 minutes, GEICO's promise would have no merit and they would lose credibility.
FedEx – When it absolutely, positively has to be there overnight.
FedEs had the brand promise "When it absolutely, positively has to be there overnight."Back in the seventy and eighties FedEx used their promise (similar to Geico) as a replacement for their tagline. The benefit of their promise is it clearly stated to the customer that they will "absolutely, positively," deliver their package overnight. If customers used FedEx and their packages took a week rather than overnight do you think that they would have become an international shipping leader? No, definitely not.
Core Values
Your core values define what your brand stands for. Your values can set the foundation for your brand's culture, affect morale, and pride within your team. Your values can gather and align people around idealized behaviors such as customer service or community involvement. Your values can also impact how you and other on your team interact with one another and with customers. Your values can lead you to innovation as you strive to keep your values. Your values can lead to customers understanding the difference between your brand and your competitors.
For your values to be effective you shouldn't hide them; you need to embrace them and even share them. We can find several brands' values online, as they have them listed on their sites. A few that you can look at are:
Zappos – They call them their "Family Core Values"
A few of their values: deliver WOW through service, do more with less, be humble, build a positive team and family spirit. There are more—ten in all—however, you can see just from the ones listed above they have values defined that cover customer service and culture.
Adobe – Four core values drive everything they do
Adobe groups their valuesunder four categories: genuine, exceptional, innovative, and involved. Each category outlines their values which, in-turn, outline how they approach different parts of their business. For instance, with Genuine they strive to be "sincere, trustworthy, and reliable," while with Innovative they look to be "highly creative and always striving to connect new ideas with business realities."
Ikea – Seven values; no instructions needed
As part of their hiring, Ikeawants people that resonate with their seven values. From "daring to be different" to "accepting and delegating responsibility," their values focus on people, whether they are employees or customers, and the way the company interacts with them.
Is there a brand who's values you identify with? Let us know who and what values you identify with below.
Voice or Personality
Your brand's voice and personality is reflected in your style of writing and the tone of your communications. Every touchpointis a way for your brand to express its voice and personality. Defining your voice and personality is important as it can lead to customers engaging with your brand. If your voice is serious and overly technical, suddenly using humor in your communications can cause confusion and uncertainty with your customers. When you use language, the way you phrase something changes the interaction that takes place. Let's look at the way you could ask a question:
"Excuse me sir/madam, but by chance do you know the best way to get to the store?"
"Do you know the best way to get to the store?"
"Hey where's the store?"
Each question is asking the same thing, but each phrase can provoke a different conversation. When you're planning your voice, look at the way the customers in your field speak. Use words and a tone familiar to them; you'll find it will help you connect better. As you develop your voice your personality also comes into play. Will you use humor? Perhaps you need more of a straight-to-the-point approach. Your personality, along with your voice, helps you stand out from your competitors.
Whose brand voice or personality do you think is unique and resonates well? Is it someone like Poo-Pourriwho uses humor mixed with sophistication to talk about everyone's personal business? Share your favorite below along with why you find it unique.
Brand Positioning
We have covered brand positioning before, and you'll no doubt remember that your brand position is not the same as your tagline. Brand position is typically used internally and not intended for public use. However, your brand position will guide how you interact with the public. Your brand position can help you in three key areas: marketplace differentiation, moving beyond price to compete on value, and clarity in an arena full of noise.
Defining the parts of your brand platform allows you to grow your brand while maintaining your consistency with your customers. As you work on each part of your brand platform you'll find it gives you the opportunity to strengthen the other parts of your brand platform and your brand as a whole.
Share your experience of working on your brand platform with us below. Perhaps you found your brand promise easily but you're struggling with your brand's voice and personality. Let us know below and together we'll make your brand better.
Ideas To Make Your Brand Better Now:
Determine and polish your promise. What do you want to promise your customers?
List the values you feel are important for the success of your brand.
Identify a voice that you can maintain and will fit with your market.
Establish your brand-position (use our positioning templatesto get started).
Share your experience with us.
TERMS click to expand or collapse
Brand Promise: The expectation the brand owner has in relation to what the brand must do, is willing to do, and what it will provide their customers.
Brand Values: The heart and soul of a brand. Impacts every part of a brand from new hires to the CEO and owners.
Voice or Personality: The words and language which a brand uses to communicate and relate to their customers.
Brand-Positioning: How a brand defines their target audience, competitive differences, brand solutions, and their unique selling proposition (USP). Can also be referred to as brand positioning statements, brand strategy, brand essence, and positioning strategy.