Managing & Extending: Develop Brand Guidelines
STRATEGY IS ALWAYS NEEDED
This article continues examining, in depth, the parts of the branding process that I introduced in my e-book, 17 Mistakes that Can Harm Your Brand. In the book, I outline five phases of the branding process: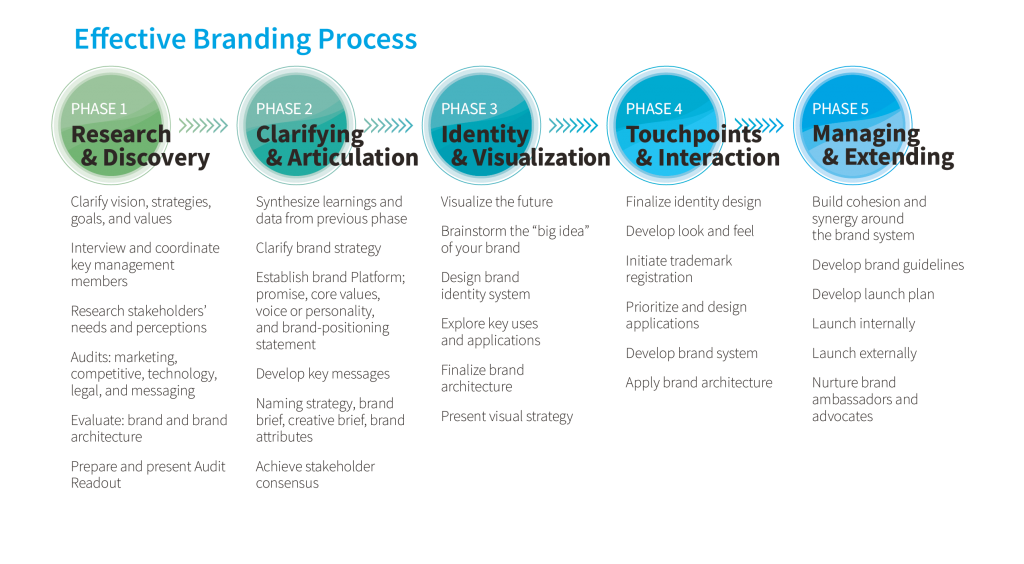 A big component of Phase 5 of the branding process is developing your brand guidelines. Many brands for both entrepreneurs and larger companies fail to understand the importance of establishing brand guidelines. Many people feel or look at a style guide as a set of restrictive arbitrary rules. They feel a style guide limits the creativity or ability to quickly respond to industry changes. Failing to establish well-defined brand guidelines is one of mistakes highlighted in 17 Mistakes that Can Harm Your Brand. Your brand guidelines define and establish how the various components and touchpoints that correlate with your brand communicate and connect back to your brand. Your brand guidelines help you save money, frustration, market confusion, and time.
The importance of well-crafted and thought-out brand guidelines is that it provides a roadmap of where the brand is and where it is going. Your brand guidelines are only as effective as the information you convey. With any brand guidelines there are core elements you must cover or include, but you can include even more, if you choose. Let's first look at the core elements that you will want to include.
Core Brand Guidelines Elements
Logo/Brand Mark. This should include all possible logo uses and possible lockups that can be used. You should include usage that is not permitted.
Brand Colors. Your brand should focus on using a set of approved colors that correlate, maintain, and strengthen the brand.
Taglines.Does your brand have an approved tagline? If so, include it in the brand guidelines.
Fonts and Typography. What font should be used for all of your official communications? Is it serif, sans serif, a combination, or both? Does your printed material use one set of fonts while your online presence might use a different, similar-looking font set?
Voice. What "voice" should be used in your branded materials? Is it light and free, or more formal? What jargon is acceptable?
Imagery. What type of images do you use? Do you include more lifestyle (evocative) imagery or more straight product shots? Speaking of product shots, how do you approach approved product shots? Are they 3/4 turn to the right or to the left? What type or color of background are they shot on?
As mentioned earlier, the more comprehensive your brand guidelines are the more effective they will be. In addition to the six core elements noted above, let's look at some of the additional elements your brand guidelines should include.
Additional Brand Guidelines Elements
• CEO/OWNER statement. This statement provides top-down support. This doesn't need to be long winded; short and concise tends to work better.
• Additional Color options. In connection with your brand's core colors, do you have additional colors that work well?
• Expanded Typography usage. Outline the font usage for traditional vs. online material. Does the headline on your website differ slightly from your printed pieces that go out? Font sizes are often different for printing than they are for screen use.
• Print Logos vs. Screen Logos. Do you have optimized logos for screen usage that are different than the ones you use for print projects?
• Brand Strategy. You clarified and expanded your brand strategy throughout the branding process. Include it in your brand guidelines.
• Brand Elements. Does your brand have additional elements that can be used to help strengthen the brand visually?
• Brand Architecture. How is your brand architecture setup? Include the way your own products correlate and differ from each other.
• Editorial Guidelines. Does your brand employ specific terminology that is important to get correct? This can include proper product referencing, even first use vs. secondary usage.
• Presentation and Collateral design. Does your brand have official templates or looks for presentations or collateral such as letterhead, business cards, packaging, and more?
• Size relationships. How does your logo size compare to your headline or a trademark symbol to the font size you use? Are there minimum sizes for elements?
People have asked 'How long should my guidelines be?' Other than the core elements, your guidelines should be as long as your brand needs it to be. Don't allow yourself to fall for the misconception that the more information you include the more stifled your brand will be.
Often in crafting your brand guidelines it is helpful to see the kind of content that other brands outline to help their brand. Use these as examples of what other brands include:
Herman Miller – a 99-page guideline that covers everything from their mission statement and design tenants to voice and naming.
Facebook – Brand guidelines site for the largest social media platform. Providing insight from mission to providing an FAQ.
Daimler Chrysler Identity Style Guide – a comprehensive site for Daimler Chrysler that is used for brand communication and education.
University of Cincinnati – Branding guide for the University of Cincinnati that covers logo usage to usage approval contacts.
Ideas To Make Your Brand Better Now:
Determine and work on the core elements for your brand guidelines.

Look at examples of other brands and the additional information that they provide beyond the core elements.

Finalize your brand guidelines.