Managing & Extending: Develop Launch Plan
TIME FOR A PLAN
This article continues examining, in depth, the parts of the branding process that I introduced in my e-book, 17 Mistakes that Can Harm Your Brand. In the book, I outline five phases of the branding process: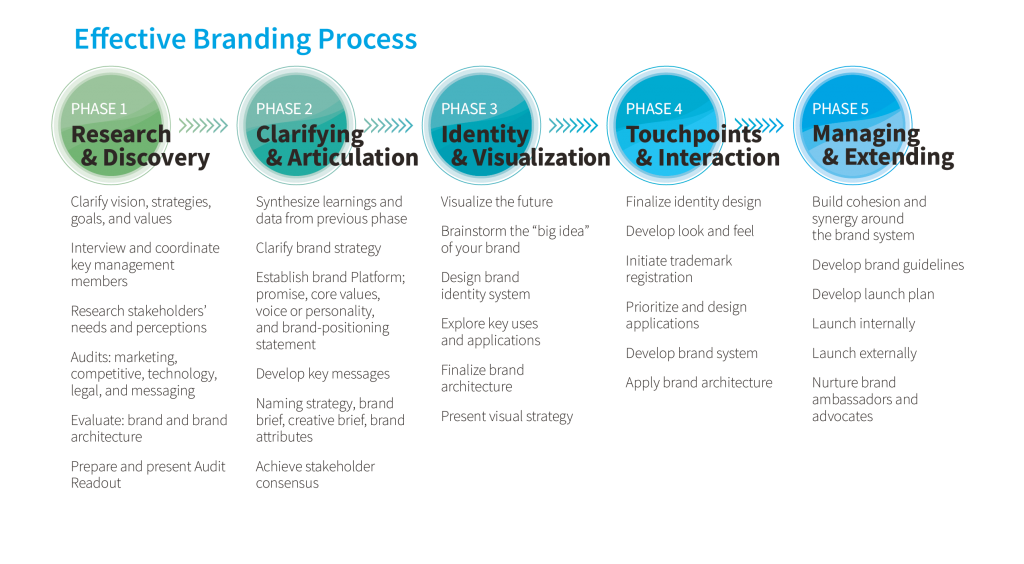 With all the previous parts and phases of the Branding Process completed you're ready to move to part 3 of Phase 5, Developing a Launch Plan. With all of the hard work and effort that you have put into developing your brand, now is when you work on the plan to formally launch your brand. When it comes to launching your brand, often it can seem an enormous task, and what's worse is that often many entrepreneurs and CEO or business owners are tired; they feel they are running out of steam. When this happens, often brands have a hard time envisioning what to do. This is why having a launch plan is effective, as it helps ensure a more successful brand. In the next two articles you focus on executing that plan. There you will discover what internal and external launches are and what they each need in order to work properly. In this article, you'll focus on the elements to help your launch be successful.
Set Goals
Set goals to help with determining what needs to happen for your launch to be successful. Setting goals also helps you with determining what activities you need to engage in during your launch. Some solid goals for any launch include increasing brand awareness, establishing brand loyalty, and creating emotionally engaging connections with people interacting with your brand.
Tell Your Story
Everyone loves a great story. Human beings are a social group; we thrive on interaction with others and them interacting with us. Focus your story in a way that is engaging while educating everyone on the value of your brand.
Touchpoints in Place
Throughout various points of the branding process you have focused on touchpoints. All of your research into establishing key touchpoints needs to be spot on. Look at your list of key touchpoints and ensure all of them are in place and ready for your launch. The website, sales collateral, business cards, promotional material, social media channels—all of it.
Identify Your Audiences
When you launch, your brand is going out to everyone. Realize that everyone really is everyone, not just the potential customers that you are hoping to attract to your brand. Your brand is going out to your potential customers, your friends, your family, and your business contacts. It's also going to employees and investors (current or future). Separate your audiences into internal and external groups.
Schedule Your Launch
Once you have established goals, touchpoints, audiences, and established how to tell your story, you need to develop a fully detailed launch calendar. Your calendar needs to outline the delivery of each expected launch deliverable and possible communication that goes with the corresponding deliverable. Be sure that the timing you schedule does not result in jumping the gun.
Every part of your launch plan needs to be that—a plan, not a checklist. A checklist is a set of simple items that tend to be placed on a list with little thought other than simply "checking them off." Your plan needs to focus on the benefit of your brand and what needs to happen to make your brand better.
Ideas To Make Your Brand Better Now:
Identify the needs for your brand launch to be successful.
Create your launch plan and calendar.
Get C-level executives' support and backing to effectively launch on time.