Clarifying and Articulation: Develop Key Messaging
STRATEGY IS ALWAYS NEEDED
This article continues examining, in depth, the parts of the branding process that I introduced in my e-book, 17 Mistakes that Can Harm Your Brand. In the book, I outline five phases of the branding process: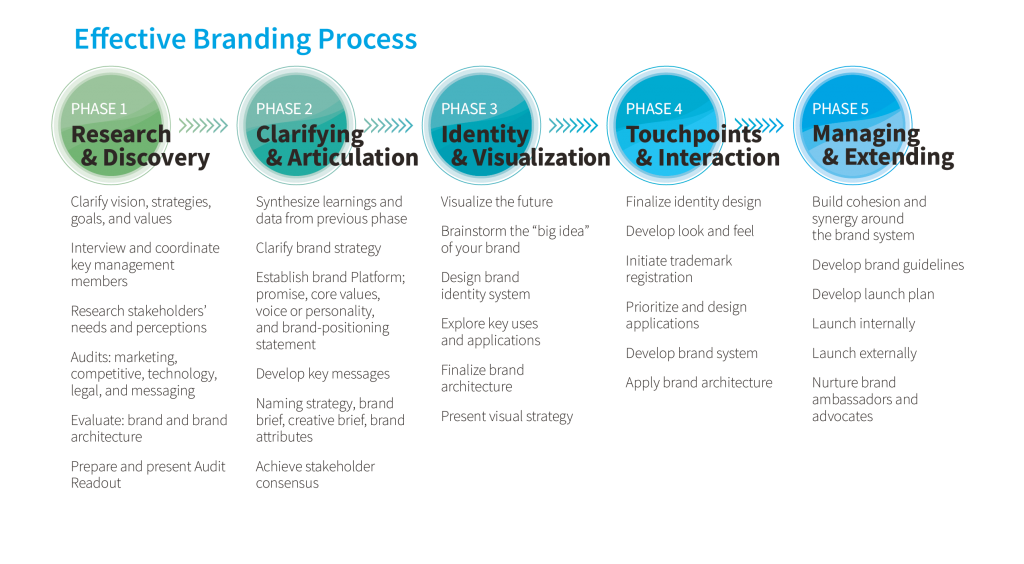 Developing your key messaging is the fourth part of phase 2 of the branding process. Developing your key messages is how you develop quick statements that you use to help your customers remember your brand. They also serve to bridge misconceptions that may have arisen during the key management interviewsfrom phase 1 of the branding process. These key messages should be short and, at most, take 10 to 15 seconds to express.
More Than an Elevator Pitch
You might think that we're simply referring to an elevator pitch—you know; that persuasive sales pitch that you always need to have at the ready. There are elements of truth in this, but it is not the whole story. Your brand's key messaging covers more than just your rehearsed sales pitch; your key messaging should be noticeable and part of every customer-facing touchpointyour brand offers. By making sure you engrain your key messaging into every part of your brand, customers will know who you are and what you do.
What touchpoints do you use that could benefit from tying it to your key messages in? Share below which ones and how you might do so.
Does Your Messaging Tell Your Story?
Your brand's key messaging is a way to tell your brand's story, and like any good story there are chapters. These chapters (or, if you prefer, parts) need to be short, memorable, and subtle statements. They explain how your brand applies to your customers and fits in with what they are looking for. You want to subtly have your messaging stand out from your competition. No one wants a company's messaging crammed down their throat. You also want to remember that your key message statements are not to be confused with your taglinesor your brand positioning statement. They should, however, work closely together so that your key messaging statement is reinforced by your taglines and positioning statements.
If you had to focus on one key aspect of your brand's story, what would it be? Let us know below.
When developing your key messaging statements, you want to be careful with it—there are a few things you want to make sure you include or cover with your messaging so it is as strong as possible.
The Attributes of Effective Key Messaging
There is no silver bullet when it comes to effectively developing your key messaging. If there was everyone would use it and no one would stand out from each other. There are, however, attributes that are possessed by effective key messaging. These are:
Custom: Your messaging communicates to customers of different types. It is able to fluctuate between different groups while remaining tied to the key messaging.
Real/Honest: Your messaging is based in reality; you can include some higher aspirations but keep yourself grounded.
Relevant: You focus on what your customers needs to hear, not just on what you want them to hear.
Simple and Concise: Your goal is to have 3-4 that can each be easily recited in 10-15 seconds.
Compelling: Your messaging need to encourage action and motivation.
Strategic: You separate yourself from your competitors while addressing your benefits and value.
How to Create Your Key Messages
Like I've said there is no silver bullet when it comes to crafting your key messaging. There are some questions to keep in mind, though, as you go through the crafting process. These questions will hopefully help jumpstart your brain into creating your key messages:
How are you different?
What is your unique value?
Who is this for?
Why should people care about your brand?
What problem do you solve?
How will your brand make a customer feel?
Key messages will help you bridge any misconceptions between your key management team and your customers. What key messages do you need to improve to make your brand better? Let us know below.
Ideas To Make Your Brand Better Now:
Jot down the history of your brand and look for one or two items that can be turned into key messaging points.
Determine at least 2-3 key message points that are unique to your brand.
Share your top key message point with us below and how you know it will be effective with your customers.
TERMS click to expand or collapse
Brand Touchpoints: The various methods in which a brand interacts with others. Touchpoints include the people, places, or items that enable communication between your brand and customers and potential customers.
Brand Story: Beyond just the narrative, brand story is the whole picture that is made up from the facts, feelings and parts created and touched by your brand.
Elevator Pitch: A succinct part of messaging that is typically used by sales team.