Research and Discovery: Clarify Vision, Strategies, goals, and values
Branding has Phases
In my e-book, 17 Mistakes that Can Harm Your Brand, one area I touch on is how branders assume that branding is easy.Many people think that setting up a brand is a fast and easy process, when in fact there are many parts that are involved in creating a brand. In the book I outline five parts of the branding process: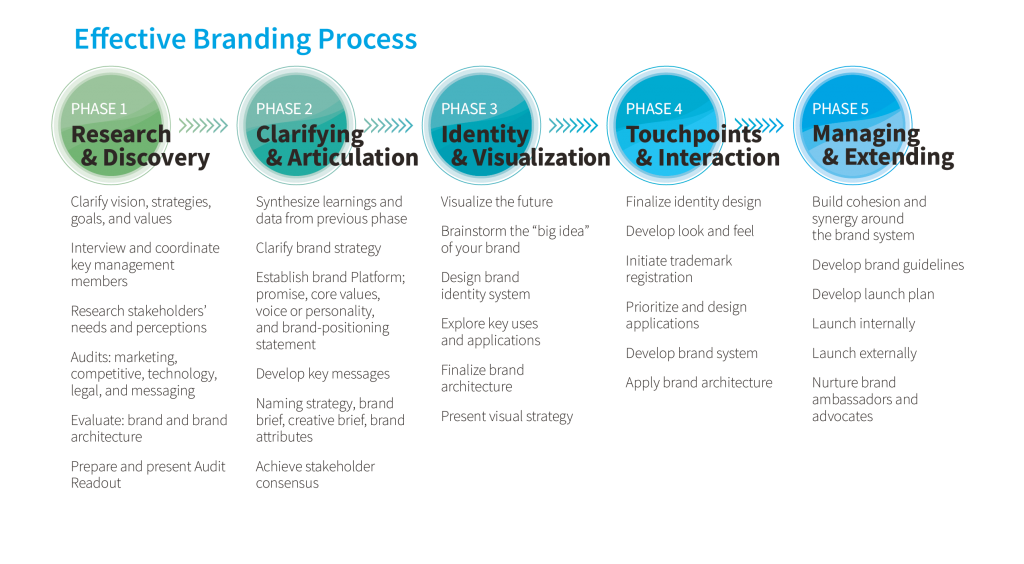 In the upcoming weeks, we will be going through the entire branding process. This article focuses on the first part of the branding process—the research and discovery phase. This phase consists of multiple parts, each related to clarification. What you need to clarify is your vision, strategies, goals, and values.
Clarifying Your Vision
When it comes to branding your business or product it is vitally important to have a clear vision. This vision is in relation to who your brand is, what it stands for, and how it will grow. One area that will help in clarifying your vision is understanding your why. We've covered this before, and I even provided a worksheet you can use to help focus on What is Your Why. As I outlined, there are many types of whyyou should ask yourself. If you have not completed your "why worksheet," I suggest you take the time to go through it and discover your why. Once you can zero in on your whyyou'll better understand your vision.
Your vision needs to define who you are and who you will be. During the research and discovery phase, you need to be as thorough as you can. If there is something that you feel is important to the vision of your brand, write it down. As you explore items related to the vision of your brand, include external resources. What are your competitor's visions; how do you agree and how do you disagree? With the items you disagree on, explore and understand how your brand's vision will incorporate these differences.
Clarifying Your Strategies
Just as we have done with the whyarticle, I have previously discussed the howand what you need to do when Moving From Why To How. Defining your strategies and understanding what your strategies lead to is referred to as brand strategy. Your brand strategy is your long-term plan for the development of a brand into a success.
Your brand strategy should provide you with how you're different from everyone else in your market. When you go to market, knowing your differentiation will be a key part of your sales and marketing efforts. Your strategies should include information regarding your key customers. Knowing and understanding your customer avatars will aid in knowing your key customers.
Along with your differentiators and key customers, you need to include your personality. Developing your brand's personality empowers your brand to move beyond the jargon often used by others and helps you outline how you will interact with your customers.
Clarifying Your Goals
Goals allow you to know whether your brand is moving in the right direction. As you set out to establish goals for your brand you need to prioritize them, making sure that they are goals relevant to the success your type of brand. For example, a personal brand might have different social media engagement goals compared to a service brand.
As stated, goals allow guidance on moving in the right direction. The struggles of goals for many is that they can be overwhelming. To avoid feeling overwhelmed, it's best to take your goals and break them down into small manageable milestones. Hitting smaller, more manageable milestones helps build internal confidence with your brand, and when you feel confident about your brand it will naturally carry through to your customers.
Clarifying Your Values
Your brand's values are the heart and soul of your brand. Your values establish what your brand stands for, what drives it, and what culture you will develop for your brand. Your values should be evident in every decision throughout your business. If your executive team, no matter its size, fully agrees to and supports the values, it will impact every aspect of their decisions. For instance, it should guide your executive team in financial choices. Values should be kept in mind when it comes to hiring, advancements, and corporate structuring.
Focusing on the vision, strategies, goals, and values for your brand can seem daunting, but they are the important first steps in effectively establishing your brand. Have you worked through these items for your brand? Has your brand been around for a while? If it has, and you have not worked through these initial steps, it's not too late. In fact, even if you have worked through these steps when was the last time you refreshed yourself on them? When it comes to vision, strategies, goals, and values what part do you struggle with? Let us know in the comments below.
Terms Used:
Brand Strategy: A company's long-term plan for the development of a brand into a success. Brand strategies include goals and affects all aspects of a business.
Customer Avatar: fictional, character profiles based on your ideal customers.
Brand Values:The heart and soul of a brand. Impacts every part of a brand from new hires to the CEO and owners.