Identity and Visualize: Brainstorming the "big idea" of your brand
STRATEGY IS ALWAYS NEEDED
This article continues examining, in depth, the parts of the branding process that I introduced in my e-book, 17 Mistakes that Can Harm Your Brand. In the book, I outline five phases of the branding process: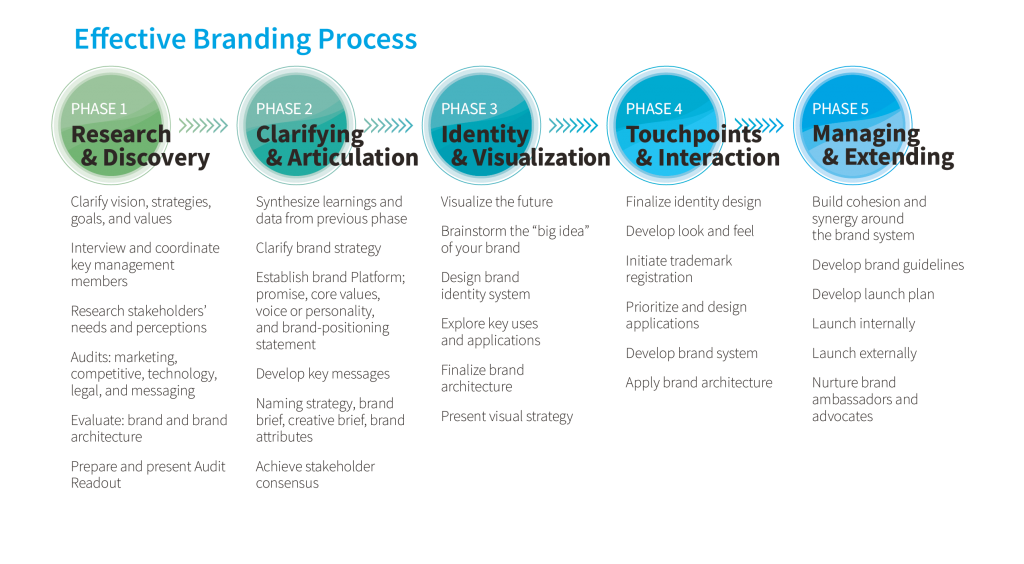 Moving right into the second part of the Identity and Visualization phase of the branding process, we're focusing on brainstorming the "big idea" of your brand. At first, when you read that in Phase 3 you're looking at brainstorming the "big idea" of your brand, you might be a bit confused. You're probably thinking "I already have an idea; that's why I've been working on branding." You would be correct, but in this instance the "big idea" of your brand is not the same as the original idea that started you on the branding path.
Your "big idea" that you're working on here is simply this—it is the soul of your brand, what drives your brand forward, and what makes your brand an important part of the world. It causes everyone in your organization, no matter the size, to have a shared passion and shared interest in the success. Because it is part of your brand, it helps customers create a perceived "invaluable relationship" with your brand. It serves as the reminder of what truly differentiates your brand from any other brand.
Determining your Big Idea
Previously, in What is Your Why,we talked about and provided you with how you can determine what your brand's "why" is. In the article, we outline nine questions that you can ask yourself to help focus on your what your "why" is. Those nine questions are:
Why are you doing this?
Why do I care?
Why am I doing this now?
Why will our customers trust us?
Why will the world be better because of my brand?
Why will my brand succeed?
Why must my brand succeed?
Why will my brand fail?
Why will I not let my brand fail?
If you go back to the earlier article, you can gain insight into each question and why it is important. We even provide a free worksheet you can download and work through to answer these questions. If you go through and answer honestly, you will help your brand in knowing what its big idea. Your big idea is also tied to your core values and brand promise; it is connected toeverythingthat connects your customers to your brand.
Have you worked through the My Brand's Whyworksheet? What was your biggest discovery in exploring your brand's why? Let us know in the comments below.
What your Big Idea Needs
The "why" of your brand is how you establish what your big idea is, but what is needed to make your big idea successful? Focus on these four characteristics to ensure that your big idea works: ownable, impactful, emotional, and actionable.
Ownable – Having a big idea that you own is any idea in which you come across as owning the idea, not borrowing it from a competitor. If you are viewed as owning the idea your customers will feel that you are accountable if you fail.
Impactful– Your big idea needs to make an impact. Your brand is a part of the world; what impact will it have on it?
Emotional –You need to make emotional connections with your customers; more precisely, your customers need to make emotional connections with your brand. This doesn't mean you simply tug at their heart strings. There are other emotions through which your big idea can connect with your customers. Explore the best emotional connection that works for your brand and your market.
Actionable –Is your big idea something you can actually do something with? Can you market it? Can you convey it easily and convincingly? Can you visualize the idea? If you answered no to any of these, you will need to continue to work on and flesh out your big idea.
Working on your big idea will help you understand your customers and marketplace and how to interact within it. As you move from your brand's "why" to ensuring that your brand meets the four characteristics of a big idea, what do you feel is the hardest characteristic to work out? Share with us below so we can help make your brand better.
Ideas To Make Your Brand Better Now:
Download and complete our My Brands Why Worksheetto discover your brand's "why."
Determine how your big idea can meet the four characteristics of a successful big idea.
Share below your biggest "why" discovery and what the hardest characteristic is.
TERMS click to expand or collapse
Big Idea: The sole/core of your brand that connect your brand with people and the world.
Brand Values: The heart and soul of a brand. Impacts every part of a brand from new hires to the CEO and owners.
Brand Promise: The expectation the brand owner has in relation to what the brand must do, is willing to do, and what it will provide their customers.